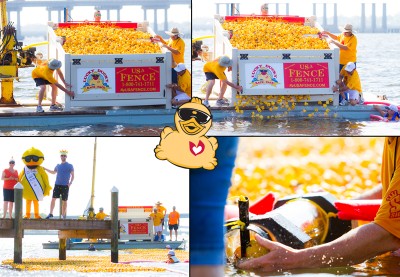 Who is "Quacky" and what is the Lucky Ducky Race for PACE? 
The 8th Annual Lucky Ducky Race for PACE, presented by Publix Super Markets Charities, is exactly what the name implies... a rubber duck derby benefiting PACE Center for Girls! Quacky is our adorable mascot who can be seen all over Manatee County, encouraging everyone she meets to adopt her adorable ducklings. Here are the basics: 


At LEAST 15,000 adorable rubber ducks racing down the Manatee River

YOU can adopt one of those ducklings and win a new Chevy Cruze (2 year lease or $6,000) sponsored by Cox Chevrolet if your duck crosses the finish line first... plus other great prizes, including Weekly Dinner for 2 at Anna Maria Oyster Bar for a YEAR!

All the fun will happen on the evening of May 13, 2017 at Caddys at the Pointe!!

 
Be sure to stop by your local Anna Maria Oyster Bar Restaurants, Peach's Restaurants, Culver's in Lakewood Ranch, and O'Bricks in April and May to adopt your ducks! Online adoptions are already open. 
Watch the videos below from prior races to learn a little more, then Adopt a duck... Help a GIRL!
"Ducks in Chevy's" Ducktail KICKOFF PARTY
and the Best Dressed Ducks Corporate Quacky Challenge 
April 1, 2017 from 6:30 - 9:00 pm
 Cox Chevrolet, Bradenton 
 "What a great party and a good vibe!" "Best Dressed Ducks are so cute!" "Food is delicious." "We had such a good time" - just a few of the comments we heard at the Ducktail Kickoff Party at Cox Chevrolet last year.   Don't miss this fabulous fun evening – casual food & beverages, music & dancing, games & prizes, silent auction & basket drawings, PLUS the specQUACKular BEST DRESSED DUCKS CHALLENGE!

Tickets are available for $100 each, and include food, beer/wine, soft drinks and a QUACKtabulous evening full of fun! For more information or to purchase tickets, please contact Sandy Groseclose at 941-751-4566 or via email at Sandy.Groseclose@pacecenter.org.

This event kicks off the Adoption Drive for the Lucky Ducky Race for PACE, benefiting PACE Center for Girls of Manatee County. Adopt a Duck... Help a GIRL! 
Do you LOVE Quacky?
Then join the fun! Quacky is currently getting her "ducks in a row" for the 2017 race and could use your help! No matter your skills or interests, there is a place for you! Here are a few ways you can help:
SPONSOR:  We are currently seeking sponsors at ALL levels!
Your logo could be seen on 75,000 Adoption Certificates, as well as posters, banners, in newsletters, etc.  For more information,

contact Christi Haley at 941-751-4566.



Host a Team!
Help Quacky adopt her adorable ducklings and challenge other teams to see who can adopt the most. Pick a cute name and PACE will help you set up your very own page to share with your friends, relatives, coworkers and neighbors!
Help Tag Ducks:
MONDAY before the race!... all 15,000 little ducklings will be tagged and prepared for the race... Contact PACE to volunteer - great for kids and adults of all ages!
Help the DAY OF, MAY 13th: Quacky Needs YOU!  Help sell additional ducklings, or assist with the race. Contact

Christi.Haley@pacecenter.org

for more info!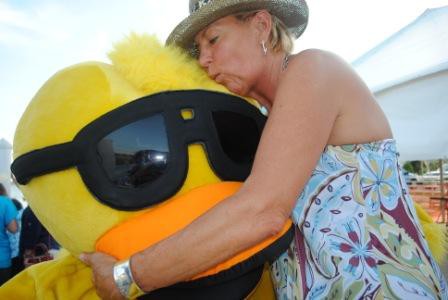 YOU CAN MAKE A DIFFERENCE!
What it's all about... Changing Lives!
Of course, everybody loves Quacky and she is working hard to bring fun to Manatee County! However, as the primary fundraiser for PACE Center for Girls, the Lucky Ducky Race for PACE is really about changing the lives of girls in Manatee County. PACE values all girls and young women, believing each one deserves an opportunity to find her voice, achieve her potential and celebrate a life defined by responsibility, dignity, serenity and grace.
Adopt a Duck... Help a GIRL!
Our Sponsors