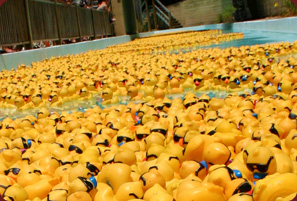 As many of you may or may not know, 2019 was a difficult year for our family. In July, I was five months pregnant, and due to complications, went in to preterm labor and delivered our five month old daughter. She did not survive, and through the help of KinderMourn, we were able to process what was happening and grieve, while learning how to handle the new "normal" in our lives. KinderMourn was there to support us through this very difficult time in our lives. We've decided to start a team and raise money for this great organization.
Adopting a Duck Through Madeleine's Mallards:

Select the Adopt a Duck Now button below this text and select a package.
The team name and team member you adopted ducks from will be included in the online receipt and in the email receipt you receive.
Thank you for adopting ducks and supporting KinderMourn!
Please note it may take up to 24 hours for your adoption to be listed below.
Michael Cowan
Meredith Alaynick
Lisa Schepler
Tracy Jones
Stephanie Campbell

Megan Savariego
Heather Kaltenbach
Amy Serovich
Karen King
Franki Clement
Leonie White Rushing
Steve Rushing
Team Members
| Team Member | Num Adopted | Goal Adoptions |
| --- | --- | --- |
| Megan S. | 19 | 25 |