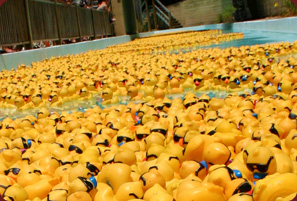 Cora is loved, missed, and will be remembered forever. A beautiful girl who continues to touch so many through her strength and light.
"You are light, you are love, you are strength, beauty and sheer perfection." - her mother Edith
"When you think of Cora, do not despair, but rejoice. Her life was a miracle." - her father John
Adopting a Duck Through Team Cora Truxillo:
Select the Adopt a Duck Now button below this text and select a package.
The team name and team member you adopted ducks from will be included in the online receipt and in the email receipt you receive.
Thank you for adopting ducks and supporting KinderMourn!
Please note it may take up to 24 hours for your adoption to be listed below.
Erin Truxillo
Gail Gaeng
Michael Gastley
Adam Dickman
Alexis Truxillo
Patricia Brewer
Lauren Truxillo
Norm and Laura Mc Mahon
Alessandra Gonzalez
Amit Kalaria
Adrienne Truxillo
Jonathan Brand
Vijay Kommineni
Lauren Gastley
Lydia and Jeff McMahon
Eddie Smith
Team Members
| Team Member | Num Adopted | Goal Adoptions |
| --- | --- | --- |
| Erin T. | 0 | 25 |