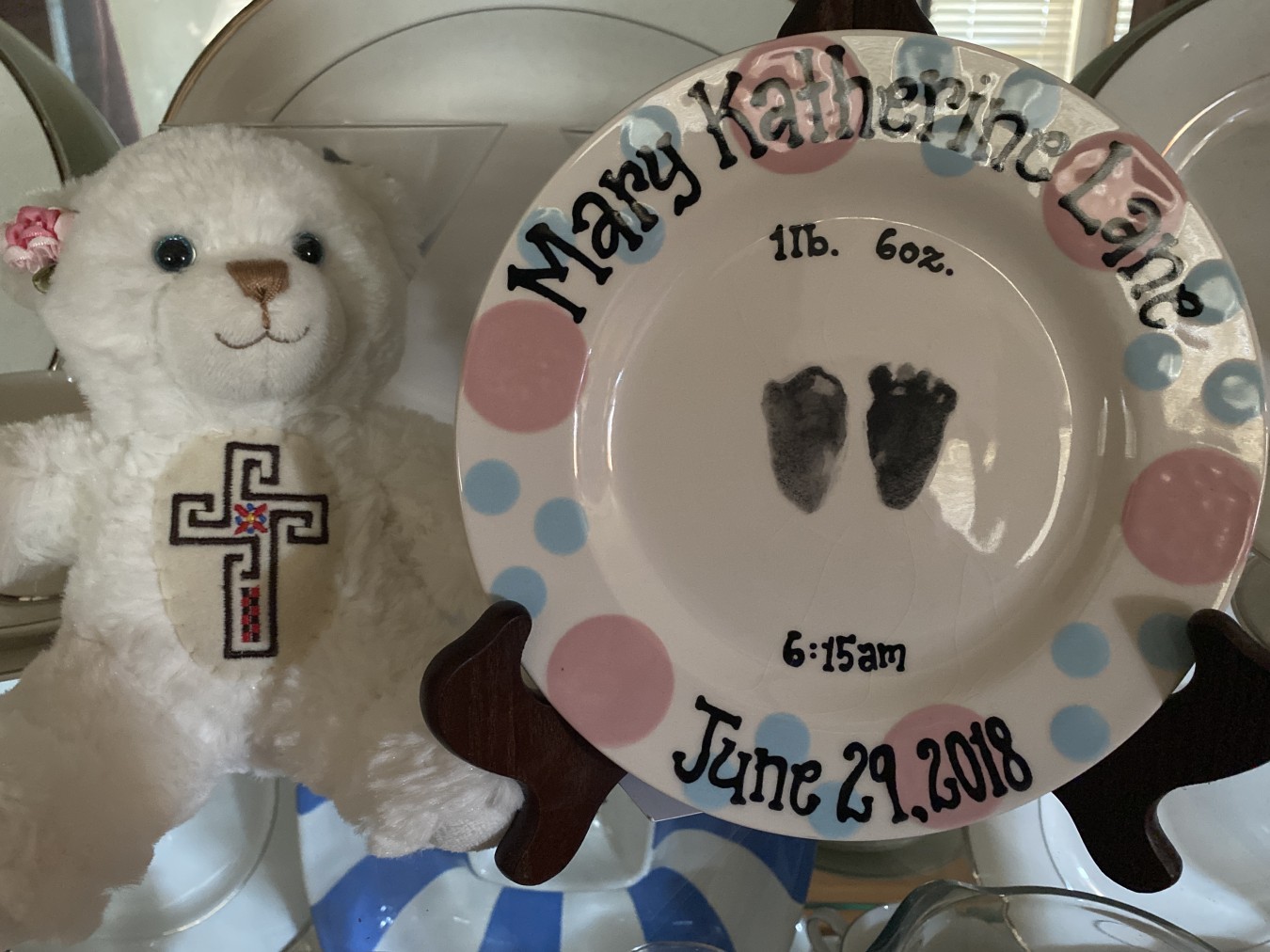 I recall being a little girl and playing with dolls. I was their mommy and they were my children. When asked what I wanted to be when I grew up... I often answered "a ballerina or a babysitter." I knew I loved children (and obviously dancing as well) and they would be a part of my life. Britt and I began dating when I was 16 years old. As most teenage girls do, I envisioned our future together. We would get married after I graduated college and we'd have a house full of children...preferably 3, 2 boys and a girl. I would be a mommy; they would be my children, our children. I was meant to be a mother (or at least I thought I was). I never envisioned I wouldn't be. That's not the way my story was supposed to unfold....until it did.
I lost my first child to miscarriage in 2015. We were devastated. Not only did our child die but along with the death...our hopes, dreams and future with that child died as well. I knew miscarriages were common, but never so much so until I experienced one myself. I will forever be grateful to the friends, family and coworkers that reached out to me and shared their stories during that time. Additionally, I will always thank God for sending that sweet baby to me even if just for a season. But I grieved and questioned and doubted and mourned. Yet I didn't seek counseling.
Fast forward 3 years to February 14, 2018.. Britt and I just discovered we were expecting again. We were over the moon. Anxious, cautious, but overjoyed. Having medical knowledge and being a bit older, I knew there were risks. But I also knew that this child would be okay. After all, God wouldn't allow me to lose a second pregnancy. That would be so cruel and our God is not a cruel God. I lost our first baby; we grew as a couple and learned from the loss. This baby would be fine. And miscarriages are fairly common unfortunately. So...I just knew this baby...our last chance child would be ok. Concern arose with our second ultrasound that something might be wrong with the baby. Multiple doctor appointments, specialist appointments, ultrasounds, prayers and positive thoughts followed. However, our sweet baby daughter gave up her fight for life on June 27, 2018 at 22.2 weeks gestation. She was born still on June 29th 2018 at 0605 in the morning. She had the prettiest full lips and the smallest amount of light brown fuzz for hair. Her body was overloaded with fluid, a result of complications of a genetic disorder she was diagnosed with called Turner's Syndrome. She was loved and she was ours. However, her passing left our hearts void and our world empty.
After 8 weeks of maternity leave, I returned to work as a NICU nurse at the same hospital at which I lost both my children. I thought returning to my "routine" would make things better. I could do the "fake it 'til you make it" routine all day long. And then one day.... I couldn't. I couldn't concentrate. My memory was non-existent. I was agitated all the time and overwhelmed by simple things - like people having a conversation beside me when I was charting. I finally sought out counseling through the Employee Assistance Program (EAP) with my work. It definitely helped to talk to someone who didn't know me or my story. The counselor was wonderful, but unfortunately EAP counseling only lasts so long. After a diagnosis of trauma, PTSD, grief, and depression....I was then encouraged to find another counselor. A friend had given me Kindermourn's contact info shortly after losing MK, but I never called. I can honestly say now... calling them was the best call I've ever made.
I received counseling from Kindermourn for approximately a year. It was the life line I needed to start to "feel" again. I wasn't pitied or avoided. I was accepted. When I walked through those doors, I didn't feel like an outcast. I felt like I was visiting family....family who had walked in similar shoes as I. I felt love, understanding, and empathy. No judgement, no questioning...no comments that started with "at least this or at least that". Kindermourn helped keep me sane when I thought I was losing my mind. It helped me get through the darkest parts of my grief and realize that this is an ongoing process that ebbs and flows. Without Kindermourn, my faith, my family and friends.... I don't know what I'd be like today. I'm by no means free of grief and still see a counselor, but I feel like I'm starting to finally climb out of the darkest pit. Thankfully, I have been able to use the counseling I received at Kindermourn to help other grieving families in my role as a NICU nurse. I'd like to believe my Mary Katherine has something to do with that and by helping others I'm honoring her and her sibling that went before her.
Kindermourn is non-profit and is able to provide services with the funding given by donation. They make things affordable and manage to provide services based on a pay scale range so that they don't ever have to turn anyone struggling with grief away. Please adopt a duck, or 2 or 10. The proceeds go to Kindermourn. Let's keep them afloat! I pray you never have to have a need for the services Kindermourn offers, but rest assured ...every penny donated helps "mothers" like me. God Bless!