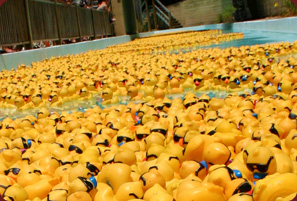 Adopting a Duck Through Sweet Baby Girls:
Claire, Miranda, Caroline and Lauren. Our Sweet Baby Girls.
This is our 10th Duck Race with our team, Sweet Baby Girls. We came together the summer of 2008 with empty arms and broken hearts. Our families have grown, our lives have continued, but we still remember our Sweet Baby Girls and the healing that happened within those KinderMourn walls. And we hold so much HOPE for each and every family impacted by a loss. That they too will have the opportunity we had to come to KinderMourn and to come together with other families to find their way and to move forward with HOPE.
Select the Adopt a Duck Now button below this text and select a package.

The team name and team member you adopted ducks from will be included in the online receipt and in the email receipt you receive.

Please note it may take up to 24 hours for your adoption to be listed below.
Thank you for adopting ducks, supporting us and supporting KinderMourn!
Sarah & Travis Gass
Philip and Susan Prince
Talitha Benignus
Liz Franklin

Elizabeth Butlak
Dawn Prince Hoover

Heidi Suri
Emily Gribble
MGA, Inc MGA, Inc
Pamela Jenkins
John Martin
Autumn Blumenfeld
Carl Short
Teresa Walquist
Emilie Herring
Diane Story
Gillian Allen
Lisa Varga
Kerri and Ryan Judson
Team Members