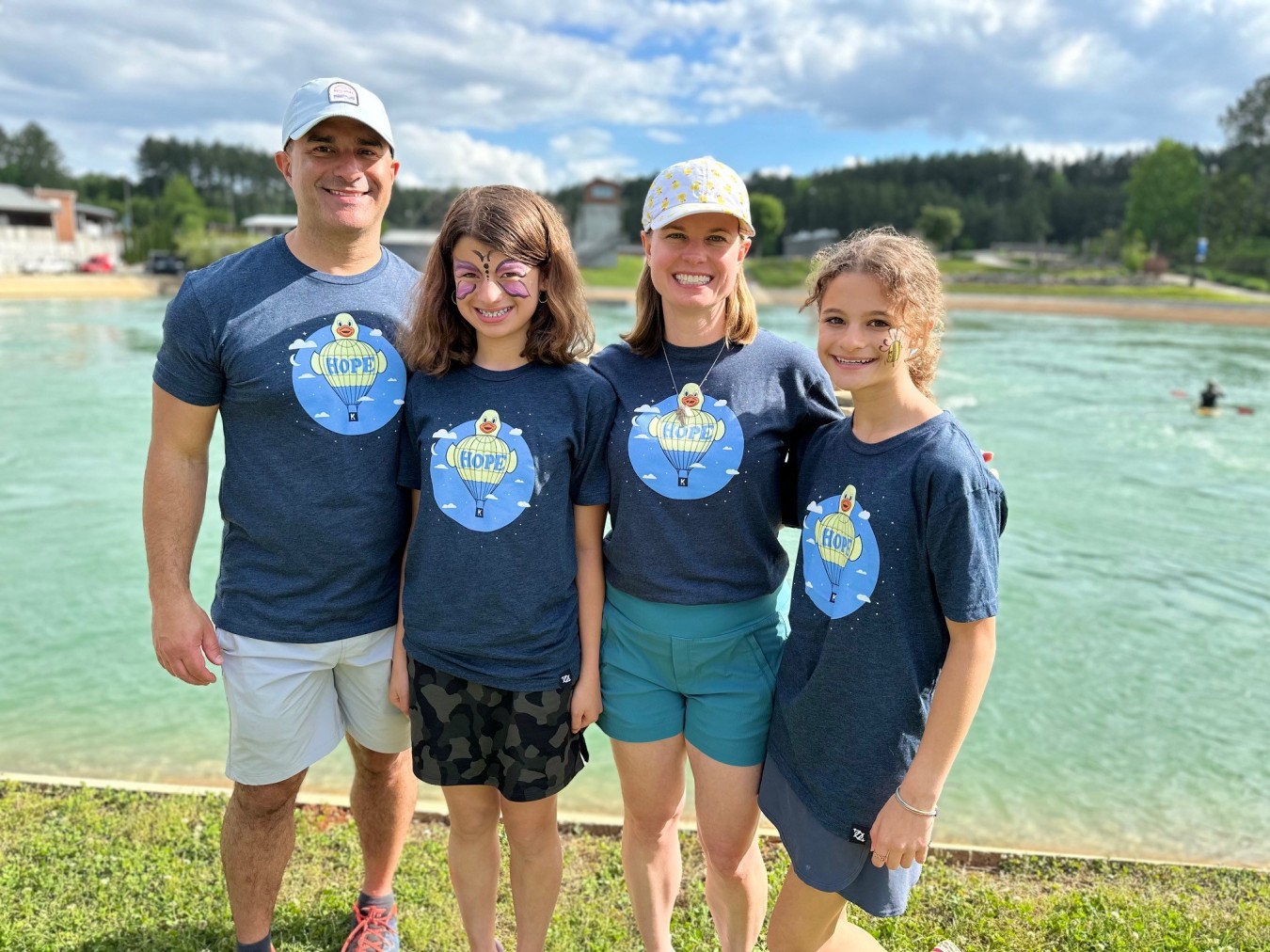 Adopting a Duck Through Team Liam:
Select the Adopt a Duck Now button below this text and select a package.

The team name and team member you adopted ducks from will be included in the online receipt and in the email receipt you receive.
Please note it may take up to 24-48 hours for your adoption to be listed below.

Team Liam has been the largest team at the KinderMourn Hope Floats Duck Race for the past several years and we would love for you to join our "flock"! It is hard to believe that 12 years have passed since we lost little Liam, and we continue to be amazed by the growth of our team each and every year. Thank you for supporting Team Liam and helping KinderMourn provide hope to many grieving parents and children in our community.

~ Kelly, Anthony, Abbie & Lily
Thank you for adopting ducks and supporting KinderMourn!
Kelly Burton
Winifred Stieglitz
Rosemarie Burton
Cathy Winterfield

Andrew Rouzer

Drew Heid
James Rich
Jonathan and Margaret Davis
Brian Royster
Chip Cranford
Roger Brown
Aileen Westover
Louise Waters
Crystal Crawford
Helen Trinh
Megan and Joey Canady
Erin Goldstein

Megan Porter
Melanie Goodman
Jennifer Felts
Connie Schwarzen
Lorin Bent
Mona H Petrerson
Tammy Ludwig
Leah Stewart
Janice and Larry Walker
Jeff Stewart
Christie & Kate Stump
Megan Porter

Erin Avery
Adam Silver
Donovan Chaney
Beverly Cranford
Meredith Lynch
Imogene Snyder
Cheri King
Lindsey Kerr
Robin Cortright
Rachel Cocchiaro
Janice and Larry Walker
Julie Crawford
Evia Woolard
Kathy Sirianni
Tony Burton
Stacy Standridge
Fernandez Family
Barbara Hall
FRANK & MARIANNE COCCHIARO
Jennifer & John Cooper
Marc Gustafson
Rhonda Allison
Dr. Sharon Jones
Allyson Neeriemer
Danielle Squires
Andria Kokoszka
Christine Bave
Lee Brading
Jan, Julius Torrence
Carol McCarty
Kerry Hoggard
Karrie Tilley
Phillip Kinney
Tiffany Tomberlin
Adam Schauer
Amber & Justin Baglio
Erin Rumble
Kristy Faulkner
Marianna Williamson
Sharon Clode
Sarah Jacobs
Meredith Warren
Hartman Nissle

Kathy Guth
Natalie and David Secrest

Scott Yando
Roger Brown

Tyler Richardson
Pam Rice
Melinda Stricklen
Tiffany Lakey
Stephanie Carson
Ron & Patti Cranford
Team Members
| Team Member | Num Adopted | Goal Adoptions |
| --- | --- | --- |
| Kelly B. | 78 | 25 |