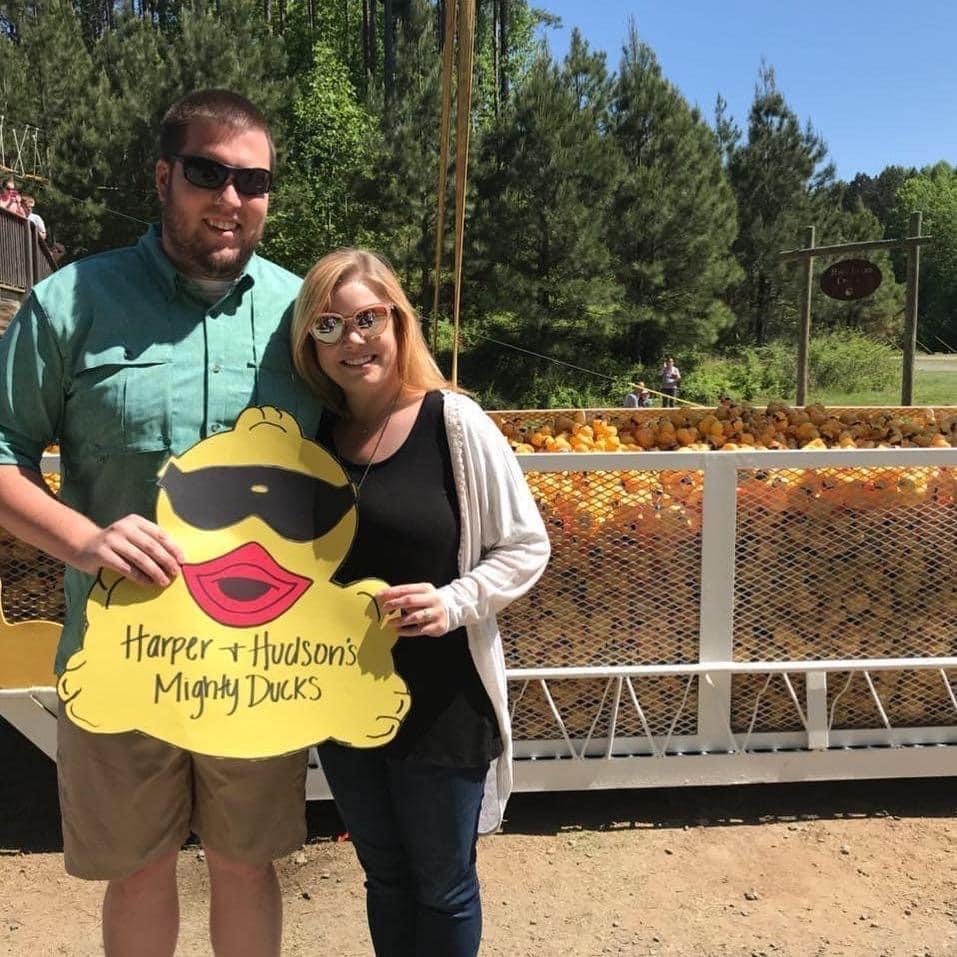 Thank you for joining our team in memory of our Angel Twins, Harper and Hudson.
We are so excited to participate in KinderMourn's Hope Floats Duck Race for the third year in a row. As always, we have so much to celebrate when we attend the Duck Race. Not only do we love attending the Duck Race in memory of Harper and Hudson, but we are so wonderfully blessed to be able to bring our rainbow baby, Rhett with us!

Last year Harper and Hudson's Mighty Ducks adopted over 200 ducks! Thank you so much to our family and friends who adopted ducks for our team. This year, we would like to exceed last year's total by adopting 250 ducks. Please consider donating a duck (or two, or more) in memory of our twins. For every duck you adopt, you will be entered into the race, giving you a chance to win $2,500 in cash or one of the other amazing prizes. The more ducks you adopt, the better your chances are at winning! More importantly, your gift brings hope and healing to the bereaved families and grieving children that KinderMourn helps every day.

We love that this event is an annual tradition with not only our family, but with all of our friends! Please join us at the Whitewater Center on Sunday, May 3rd from 2-5 pm for a fun day of food, fellowship..and ducks!

Why We Race:
2017 was a roller coaster of a year for us. After 2 years of fertility issues, and multiple rounds of fertility treatments, we were doubly blessed (and shocked) when we found out we were having twins! Our sweet blessings were due right after Thanksgiving- what a wonderful gift to be thankful for. At 22 weeks, on August 15, 2017, Breanne went into pre-term labor, for reasons we still don't have all the answers to. Because our twins were so premature, we lost both of them moments after they were born. We are blessed to be Harper and Hudson's parents, and are so thankful for our family, friends, and coworkers who helped us through such a difficult year.

What Your Duck Can Do:
One Lucky Duck - $10*

Provides a telephone referral to someone in need of grief services
A Six Quack- $30

Provides a week's worth of snacks and drinks, offered to all children and teens who visit the KinderMourn home for counseling
The Lucky Dozen - $65

Provides one counseling session for a newly bereaved parent grieving the loss of a child at any age or from any cause
The Whole Raft- $100

Provides one counseling group session with professional KinderMourn counselors for teens grieving the loss of a loved one
Super Flock - $250

Provides crisis counseling with KinderMourn counselors to school communities, employers, churches, etc. after a tragic or unexpected death
* Not available for adoption online. Please adopt single ducks by mail or by calling KinderMourn at (704) 376-2580
Adopting a Duck Through Harper & Hudson's Mighty Ducks
- Select the Adopt a Duck Now button below and select a package.
If you would like to adopt a single duck, please call KinderMourn at (704) 376-2580
-The team name and team member you adopted ducks from will be included in the online receipt and in the email receipt you receive.
**Please note it may take up to 24 hours for your adoption to be listed below
Thank you to the following friends and family members for adopting ducks in memory of Harper & Hudson and for supporting KinderMourn
Jennifer Villas
Gay Hudson
Jeanna Bennett
Alex Hamrick
Team Members