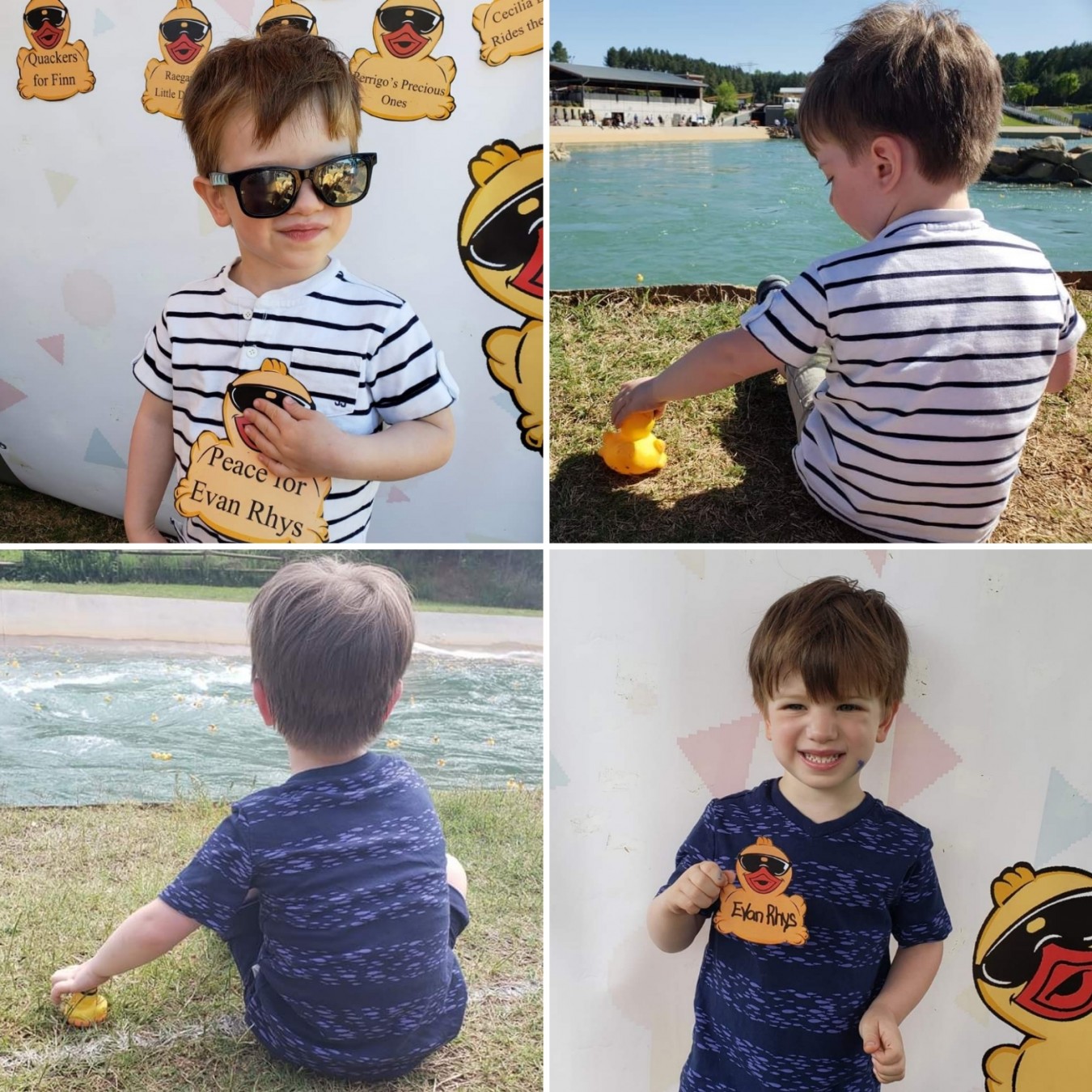 If Evan had been a healthy baby, we would have celebrated his second birthday this May. I carried Evan Rhys for nearly 20 weeks before we said goodbye to him in December 2017. The week of his anatomy scan we received the devastating news that he had a rare neural tube defect, Occipital Encephalocele. Knowing he never even had a chance at any type of quality of life was absolutely heartbreaking. While saying goodbye to our sweet baby boy was the hardest thing we ever had to do, we are forever grateful that we had the choice to give him peace. We continue to find strength within us to move forward thanks to the joy that our boys, Hayden and Dylan, bring us each day and the love & support we receive from our family and friends. In the spring following our loss, we participated in a Kindermourn Empty Arms Support Group that helped us process our grief experience which is why we support the Hope Floats Duck Race in memory of Evan. As a school counselor, I partner with Kindermourn to host small groups at my school and often refer families to them as they are an amazing community resource that supports bereaved parents and grieving children. Never did I think that I would have a need for their services in my personal life, but I am grateful they were there when we needed support.
Here's where YOU come in. Josh and I invite you to adopt a duck (or better yet, ducks) in memory of Evan. The Hope Floats Duck Race is a fundraising event that allows Kindermourn to provide resources to children and parents in the Charlotte area. For every duck you adopt, you will be entered into the race which gives you a chance to win $2,500 in cash or one of the other awesome prizes. The more ducks you adopt, the more likely you are to win big! Most importantly, your donation brings hope and healing to the bereaved parents and grieving children that they help every day. We are bummed that COVID ruined the Duck Race event that was to be held in May, but the race continues virtually this September. We appreciate all your love & support as we continue to navigate life after loss.
Hope Floats!
One Lucky Duck - $10*
A Six Quack - $30
The Lucky Dozen (13) - $65
The Whole Raft - $100
Super Flock - $250
Mega Flock - $500
* Not available for adoption online. Please adopt single ducks by mail or by calling KinderMourn at (704) 376-2580
Adopting a Duck Through Team Peace for Evan Rhys:

Select the Adopt a Duck Now button below this text and select a package.

The team name and team member you adopted ducks from will be included in the online receipt and in the email receipt you receive.

Please note it may take up to 24-48 hours for your adoption to be listed below.
Thank you for adopting ducks, supporting KinderMourn, and honoring the memory of our sweet boy, Evan Rhys.
Sarah Allen
Kelly Lone
Tamara Galloway
Courtney Layne
Melissa Hutchinson
Julie Layne
Erin Dunn
Kelly Van Daley

Team Members
| Team Member | Num Adopted | Goal Adoptions |
| --- | --- | --- |
| Lacey L. | 46 | 25 |