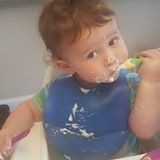 Sid Aaron Cohen was a joyful little boy who loved people, books, bubbles, and....ducks! In fact, "duck" was one of his very 1st words :). Sid unexpectedly and tragically lost his life at 23 months old, leaving behind a sweet twin brother (Ben), amazing parents (Jessie and Joni), and baby sister (Sophie). As Jessie and Joni went through the unimaginable experience of losing their son, KinderMourn was there to help in their deepest and darkest days of grief. We want to honor Sid, as well as the Cohen family, by raising money for KinderMourn through their annual "Hope Floats" Duck Race.
Through your donations, KinderMourn will be able to continue all of the important work that they do for grieving families. We had a great group of Sid's family and friends at last year's duck race and hope to have even more this year. Please contribute if you're able and thank you for supporting the wonderful work of KinderMourn!
Please join us - virtually by adopting a duck or more - to support KinderMourn in memory of Sid. Thank you for your generosity!
Adopting a Duck Through Sid's Ducks:

Select the Adopt a Duck Now button below this text and select a package.

The team name and team member you adopted ducks from will be included in the online receipt and in the email receipt you receive.

Please note it may take up to 24 hours for your adoption to be listed below.
Thank you for adopting ducks and supporting KinderMourn!
Rina Roginsky
Emily Pullman
Emily Heid
Kristin Hall
Miriam Gold
Barbara Jacobs
Ruby Fradkin
Eric Szerlag
Michelle Kirchenbaum
Michelle Forman
Meghan Frey
Susan and Donald Jacobs
Ellyn Gross

Erin Goldstein
Amanda Vestal
Vicki Hopkins
Tracey Lederer
Malinda Linkhorst
Patty Torcellini
Holly Gainsboro
Karen Greenblatt
Tammy Seigel
Chip Wallach
Sharon and Jerry Ness
Joan Makley
Michael Yaffe
Katherine Batzell
Regina Cates
Josh Klein
Bonnie Andrews

Dara Jacobs
Renee Loforte
Jillian Petersen
Steven Kaufman
Megan Diamond
Nicole Tate

Lorrie Klemons
Cindy Hendren Miller
Anne Sinsheimer
Kaley Motschenbacher
Lauren Susen

Kim Cuturilo
Brian & Lindsay Bauer
Betsy Klein
Roni Fishkin
Laurie Lavinsky
Joel Cohen
Ryan Walters
Elizabeth Cicirello
Lois Conrad
Jessie and Jonathan Cohen
Steve & Kate Lowry
Stephanie & George DiPaolo
Ellen and Shel Goldstein
Lisa Strause Levinson
Craig Goldstein
Deborah Block
Margaret Montague
Cameron Pease
Jennifer Wulff
Doris Li
Roz Cooper
Rachel+David Campbell
Leah Naliboff
Candace Naliboff
Talya Tateo
Sandra Rothbard
Florence Jaffa
Kate Milheim
Megan and Andy Harkavy
Thomas McLean
Tandy Senay
Mark and Diane Szerlag
Sara Abadi
Jamie Bryan
Jessie Valencia
Jessica Cohen
Julie Goldstone
Laurie Berzack
Sarah Trojan
Samantha Glesmann
Susan Soto
Amy Udoff
Kate Repas
Abbe Greenfield
Allison Glenn
Jessie Bailin
Alexis Rudie Acker

Amy Tyndall
Amanda Crowder
Sarah & Brian Landes
Team Members