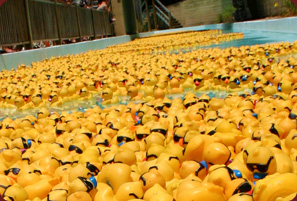 The Chicago Ducky Derby is right around the corner--Thursday, August 8, 2019.
Let's Rock this Thing!!!
Adopt a duck today.
Each duck adopted helps support more than 23,000 athletes and over 17,000 Young Athletes participate, at no cost, in Special Olympics Illinois programs.
Prizes include a 2019 Chevy Equinox, $2,500 cash, an All-Inclusive Apple Vacation to Riviera Maya and more!!
My name is Logan (Logi). My family and I have adopted ducks for the past few years to support this great cause. This year I wanted to do my part to spread the word and raise additional funds to support the Special Olympics. I hope you will join me in purchasing a duck(s) in support of this great organization that allows athletes to live the fullest life they can by being happy and active. My team goal is 5000 ducks! This is an incredibly aggressive goal, so I hope you will join me in supporting Special Olympics with a duck adoption(s). .

All proceeds benefit the athletes of Special Olympics Illinois.
Please pass my link on to your friends and family!! If you would like your name added to the team let me know in email and I can add it to this roster.
Thank you so much for your support!
Team Captain

logi.rocks.the.river@gmail.com
Team Members