The Winner of the First Prize $1500 is: Melissa Jeffreys, 2nd Prize $1000 is: Waldy Funk, 3rd Prize $500: Lynne Carpenter Congratulations to our winners! We will be contacting you soon. Thank you everyone for supporting our Duck Buddies and for participating in the 2021 Super Duper Ducks splash!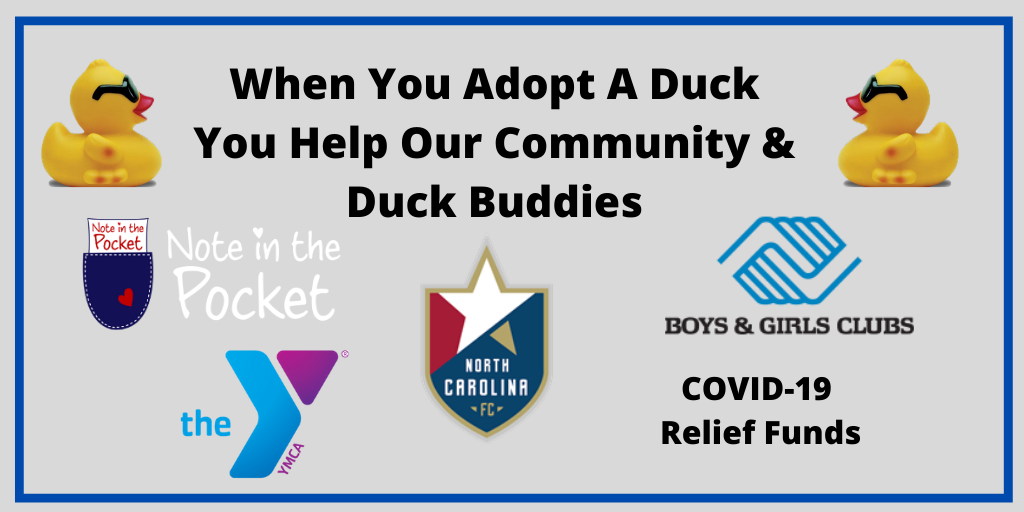 Save the Date!-Wakefield Rotary's 2021 Super Duper Duck Splash
July 24th 2021
Adopt your ducks now for Wakefield Rotary Club's 3rd annual Super Duper Duck Splash Saturday, July 24, 2021. Enjoy the fun of watching your ducks race (or float) to the finish line for a chance to win cash and other prizes totaling more than $3,000.
Sponsorships are also available!
Visit our website where you can adopt a duck for $5 (or less when you adopt more!) Adoptions can be purchased online using a credit card.
The Super Duper Duck Splash is an annual fundraiser that benefits youth nonprofit initiatives in our community, including Note in the Pocket, Wake Forest Boys & Girls Club and at-risk youth programs at the Kerr Family YMCA and NC Football Club Youth.
Have fun and feel good by adopting your ducks today. Then on July 24 watch the race either in person at the WRAL Soccer Park back parking lot or livestreaming on Facebook and YouTube.
Interested in learning more about our Wakefield Rotary club or becoming a Rotarian? Visit our club website www.WakefieldRotaryNC.com and Click on the Subscribe Button on the Videos on this site to learn more about us.
Please Support Our Sponsors
Our Sponsors
Lucky Ducky
Mighty Ducks
Friends of the Flock
Honorary Duck Partner