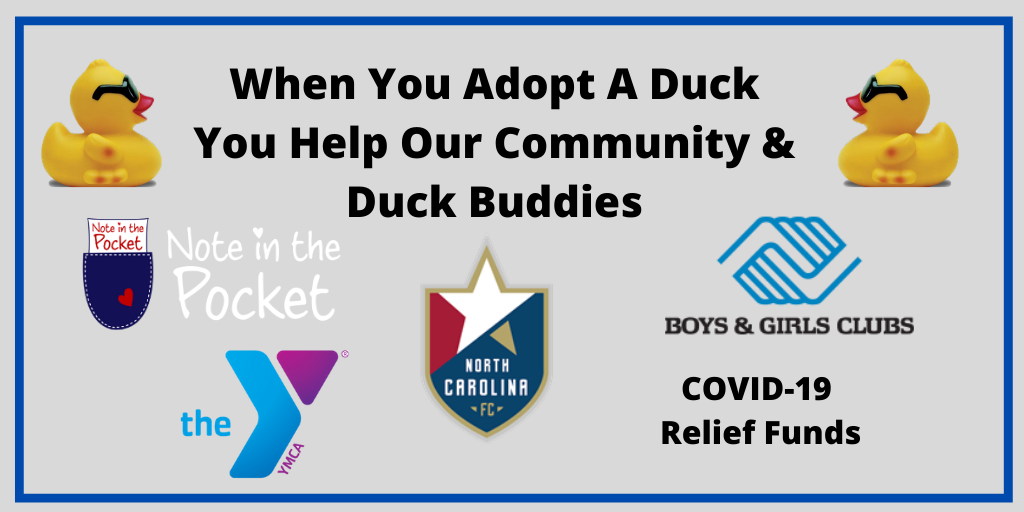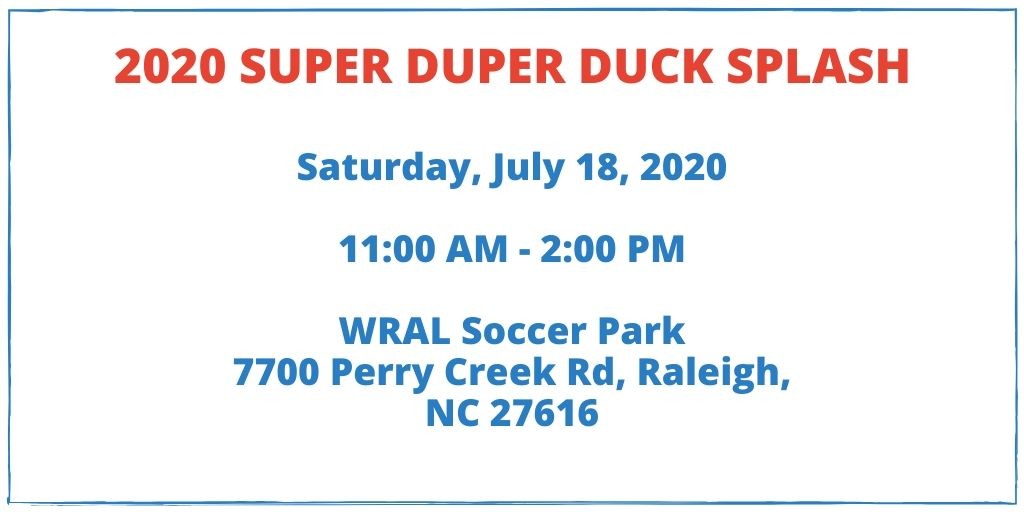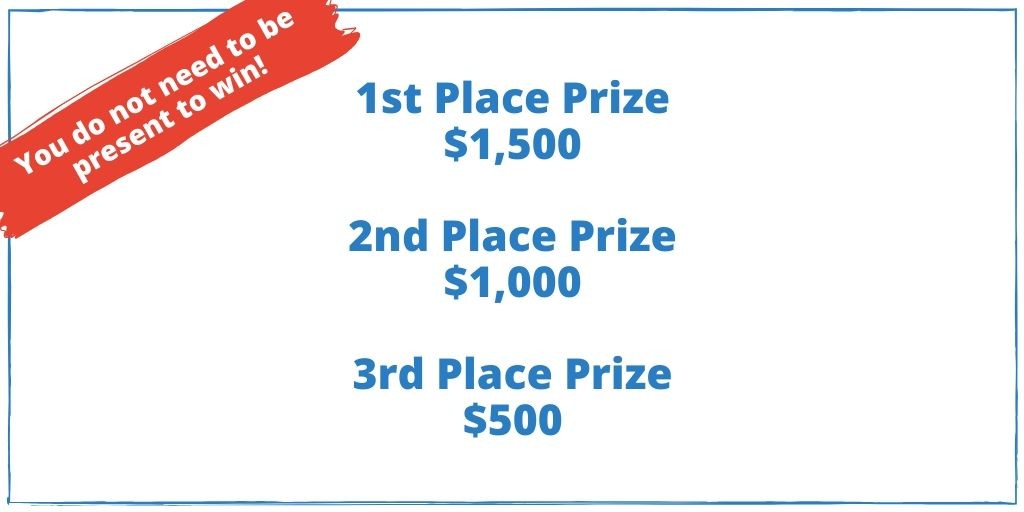 The 2019 Winners!
Thank you to everyone who adopted ducks for our 2019 Super Duper Duck Splash. While everyone is a winner in helping raise money for our four Duck Buddies (local youth nonprofits), here are the winners of the ducks that crossed the finish line first (and last). You will be contacted by a Wakefield Rotarian to arrange delivery of your prize. Please follow us on social media and watch this website for details about our 2020 Super Duper Duck Splash! More photos on Facebook. Please LIKE our page!
1st $1500 - Don Bowman, who donated half of his winnings back to Wakefield Rotary.
2nd $1000 Karen Brewer
3rd $750 Kelly W. Kelly
Non-cash, prize-winning ducks:
Dave Bonnell - TPC Wakefield Golf for 4 ($500 value)
4th -Rich Nowalk - Hasentree Golf for 4 ($300 value)
5th-Mike Travis - Texas Roadhouse ($50 value)
6th-Scott Kesselman - Polar Ice House Birthday Party ($176 value) & Week of Camp ($199 value)
7th- Barbara Shuey - Raleigh Cleaning Company ($120 value)
8th - Carina Ververka - Italian Skincare Facial Treatment ($80 value)
Last 2 Ducks to Finish:
Aretha Gaines- $50 Publix Gift Card
Dawn Nakash -$50 Publix Gift Card
Thank You!
These people and organizations helped make the Super Duper Duck Splash a success and we are grateful for their involvement!
Our Corporate Sponsors listed here
Our Duck Buddies--SAFEchild, Note in the Pocket, NC Football Club Youth and Wake Forest Boys & Girls Club.
Music by DJ Whit
Soccer Genome Footgolf & Prescient Soccer Skillz Net
For Your Occasion - Bounce House/Inflatables
Free Spirited Artistry Face Painting
Bubbles from Goldfish Swim School
Miss North Carolina Global U.S. Amy Iannarella.
Our Food Trucks Bam Pow Chow, Fuzzy's Empanadas, Lumpy's Ice Cream, & Kona Ice

Our vendors/sponsors

Gold Fish Swim School, Alliance of Disability Advocates, Sam's Club, Tutor Doctor, Farm Bureau Insurance,

World Champion Tae Kwon Do

.




These organizations that provided many wonderful door prizes :

Carolina Mudcats 4 - $10 Box Seat Tickets

Marquee Cinemas 2 Cinema Tickets

Wake Forest Renaissance Centre for the Arts 2 Tickets - Malpass Bros Concert: July 27th

Dairy Depot 1-$25 Gift Card

Lowes Food 1 - $25 Gift Card

Taco Bell 1 - $25 Gift Cards (3 Cards)

Taco Bell 1 - $25 Gift Cards (3 Cards)

Carolina Hurricanes Autographed Picture of Brock McGinn and Hurricanes Logo Mini-Flag

CarQuest Auto Parts 1 Bucket with Car Wash Items

CarQuest Auto Parts 1 Bucket with Car Wash Items

CarQuest Auto Parts 1 Bucket with Car Wash Items

Wake Up Nutrition 1 - $40 Gift Card for Smoothies

Wake Up Nutrition 1 - $40 Gift Card for Smoothies

Freddy's Frozen Custard & Steakburgers Gift Bucket (Shirt, Sunglasses, Freddy's Sauce and Gift Card)

Publix 1 - $50 Gift Card

Fayetteville Woodpeckers 2 Game Tickets, Shirt and Woodpeckers Flag

Publix 1 - $50 Gift Card

Publix 1 - $50 Gift Card

Publix 1 - $50 Gift Card

Harris Teeter 5 - $10 Gift Certificate

Mellow Mushroom 5-$10 Gift Card

Mellow Mushroom 5-$10 Gift Card

Mellow Mushroom 5-$10 Gift Card

Polar Ice House 2 - $13 Learn to Skate Admission Tkts

Polar Ice House 3 - $13 Learn to Skate Admission Tkts

Brevofield Golf Links 1 Round of Golf for 2

Triangle Dry Cleaning 3-$20 Discount Coupons

Polar Ice House 5 - $13 Learn to Skate Admission Tkts

Brooks Street Bowl 20 Free Bowling Game Tickets

Triangle Dry Cleaning 4-$20 Discount Coupons

Italian Skincare 1 - $80 Facial Treatment

Starbucks on Retail Coffee Mugs, Coffee and Gift Cards

Rush Hour Karting 5 - $20 Pass

Brevofield Golf Links 1 Round of Golf for 4

Raleigh Cleaning Company 3 - $40 Gift Card

Raleigh Cleaning Company 3 - $40 Gift Card

Raleigh Cleaning Company 3 - $40 Gift Card

Polar Ice House 1 - Camp Chillin' Track Out Week

Heritage Golf Club Round of Golf for 4 donated by Steve Arrington

Hasentree Golf Club 1 Round of Golf for 4
Please Support Our Sponsors
Our Sponsors