Congratulations to this year's prize winners, and thank you to everyone who purchased ducks to support our youth beneficiaries.

$5,000 Grand Prize!
– Brian Cohen
$500 Visa Gift Card
– Michael Hierl
$500 Visa Gift Card
– Tracy Mihm
Restaurant Tour Package
– Jessica Shatto
$300 Visa Gift Card
– Ray Rinkol
$250 Visa Gift Card
– Koleen Janney
$250 Best Buy Gift Card
– Julie Miller
$250 Best Buy Gift Card
– Eric Engelmann
$250 Dick's Sporting Goods Gift Card
– Samantha McGrane
$250 Gift Certificate to Style Encore
– Emily Blomme
$250 Gift Certificate to Play It Again Sports
– Stephanie Mehmen
Each year, Cedar Rapids Daybreak Rotary produces the Great Eastern Iowa Duck Race: a community-wide,
family-friendly, affordable, fun and unique event designed to
benefit eastern Iowa organizations that focus
on helping children and families. Run exclusively by volunteers, the annual Great Eastern Iowa
Duck Race is patterned
after a successful duck
race held in the 1990′s in our community. This year's beneficiaries include the Young Parents Network, Jon Cushing Sunshine Foundation, Legacy for Learning and the Daybreak Rotary International Fund.
These organizations focus on educating children and teaching the values of citizenship, character, healthy lifestyle, work ethic, having fun and service to others. Please consider a membership with Daybreak Rotary or a contribution to our annual event. Every dollar or amount of time spent is greatly appreciated.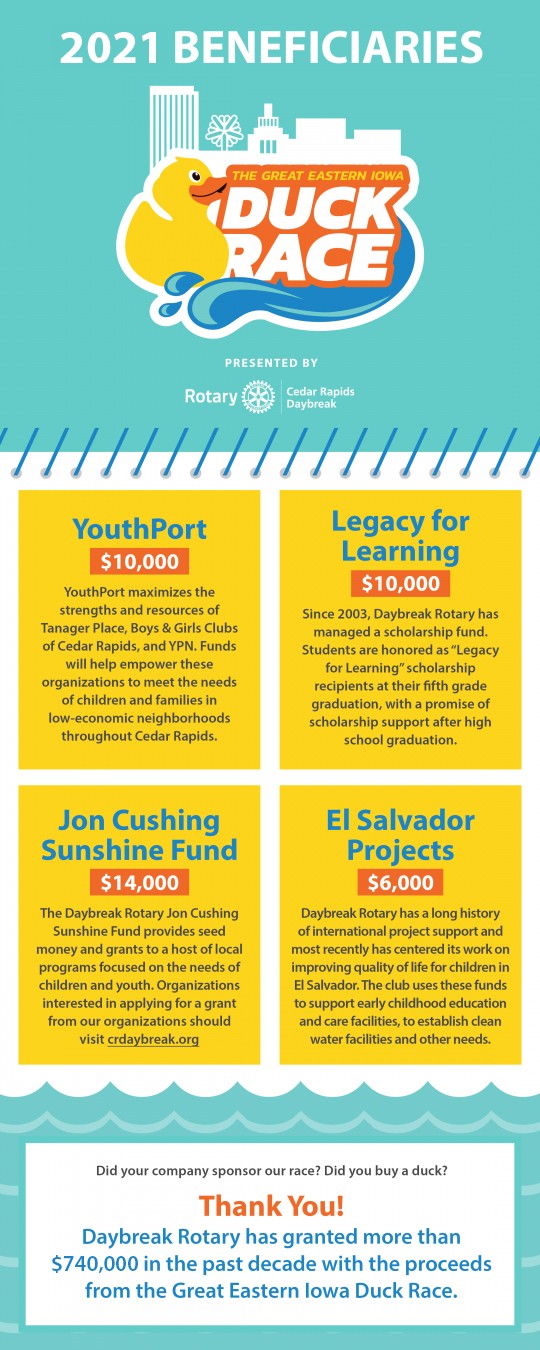 Our Sponsors