Duck Race 2020 Winners

$5,000 Cash Grand Prize - Chris Tyler
Sports Fan Getaway Package
($2,995 value) – courtesy of Primus Construction - Sara Scott
$500 Visa Gift Card
- courtesy of King's Material - Kathleen Gould
$500 Visa Gift Card
- courtesy of RSM - Dianne Richardson
Restaurant Tour Package
($500 value) - courtesy of Tyler, Link, & Barnes, DDS - Jeffrey Bean
$500 Best Buy Shopping Spree
- courtesy of Holmes Murphy and The Overture Group - Jamie Toledo
$300 Visa Gift Card
- courtesy of Terracon Consultants - Amara Andrews
$250 Dicks Sporting Goods Gift Card
- courtesy of LattaHarris, LLP - Jennifer Boettger
$250 Visa Gift Card
- courtesy of Shoemaker & Haaland Professional Engineers - Chris Fischer
$250 Gift Certificate
- courtesy of Style Encore - Michael Foley
$250 Gift Certificate
- courtesy of Play it Again Sports- Robert Warner
Winners of Four $25 Gift Cards
- courtesy of HyVee of Cedar Rapids and Marion Stores, and four
$25 Gift Cards
- courtesy of Casey's General Stores - Amy Belice, James Angstman, Juli Wirjes, Reena Lichtenfield, and Mike Gary
Quack! Cedar Rapids Daybreak Rotary is celebrating the 12th Annual Duck Race! Over the last 11 years, through community investment by sponsors and adopted ducks,
we have given more than $700,000 to youth organizations. How can you get involved? Click the "Adopt a Duck" button and buy your duck (or two, or three, or 20) now!
Each year, Cedar Rapids Daybreak Rotary produces the Great Eastern Iowa Duck Race: a community-wide,
family-friendly, affordable, fun and unique event designed to
benefit eastern Iowa organizations
that focus
on helping children and families. Run exclusively by volunteers, the annual Great Eastern Iowa
Duck Race is patterned
after a successful duck
race held in the 1990′s in our community. This year's beneficiaries include YouthPort at Polk Education Center (Boys & Girls Clubs of Cedar Rapids,
Tanager Place and Young Parents Network), Jon Cushing Sunshine Foundation, ESNA Village Network and Legacy for Learning.
These organizations focus on educating children and teaching the values of citizenship, character, healthy lifestyle, work ethic, having fun and service to others.
Please consider a membership with Daybreak Rotary or a contribution to our annual event. Every dollar or amount of time spent is greatly appreciated.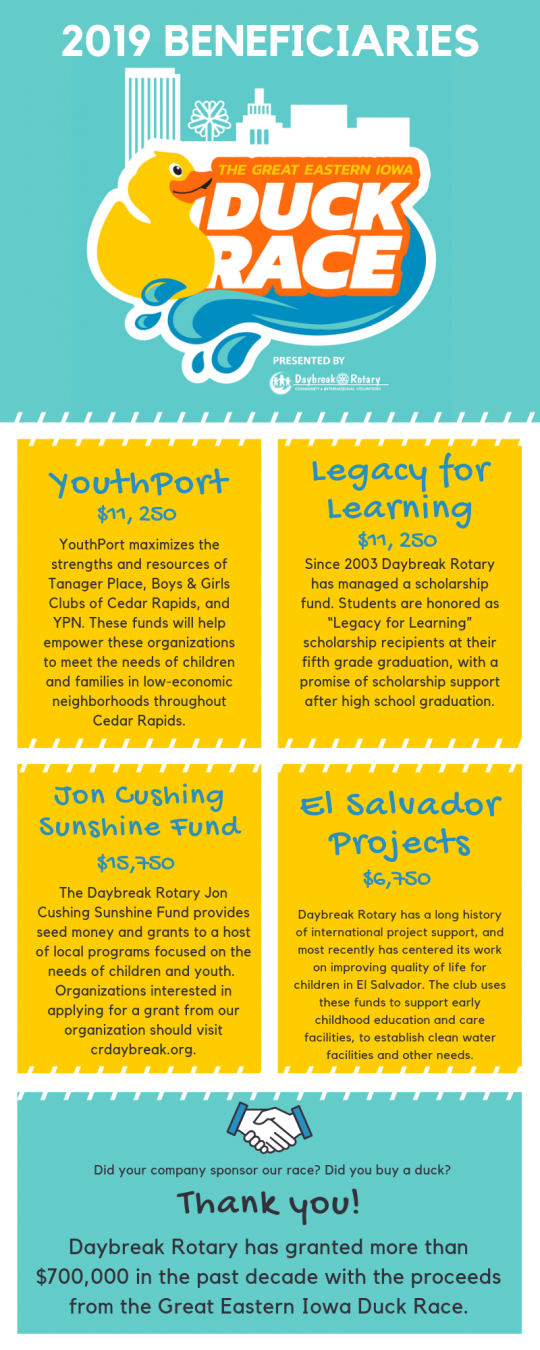 Our Sponsors