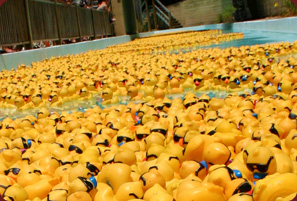 The Southern Illinois Ducky Derby Dash is right around the corner!! This year's virtual race will be held on Sunday, October 4.
Special Olympics Illinois-Region F serves 802 athletes in Fulton, Hancock, Henderson, Henry, Knox, McDonough, Mercer, Rock Island, Stark and Warren counties. Ducks purchased from the Region F team will directly benefit athletes in western Illinois.

Duck adoptions are $5 for one entry, $25 for a Quack Pack (6 ducks for the price of 5) or $100 for a Flock of Ducks! Each duck adoption equals one entry for one of our fabulous prizes that we will be announcing soon!
Thank you so much for your support of our Region F athletes.
For more information on the Region F Duck Derby team contact jdavis@soill.org
Team Members