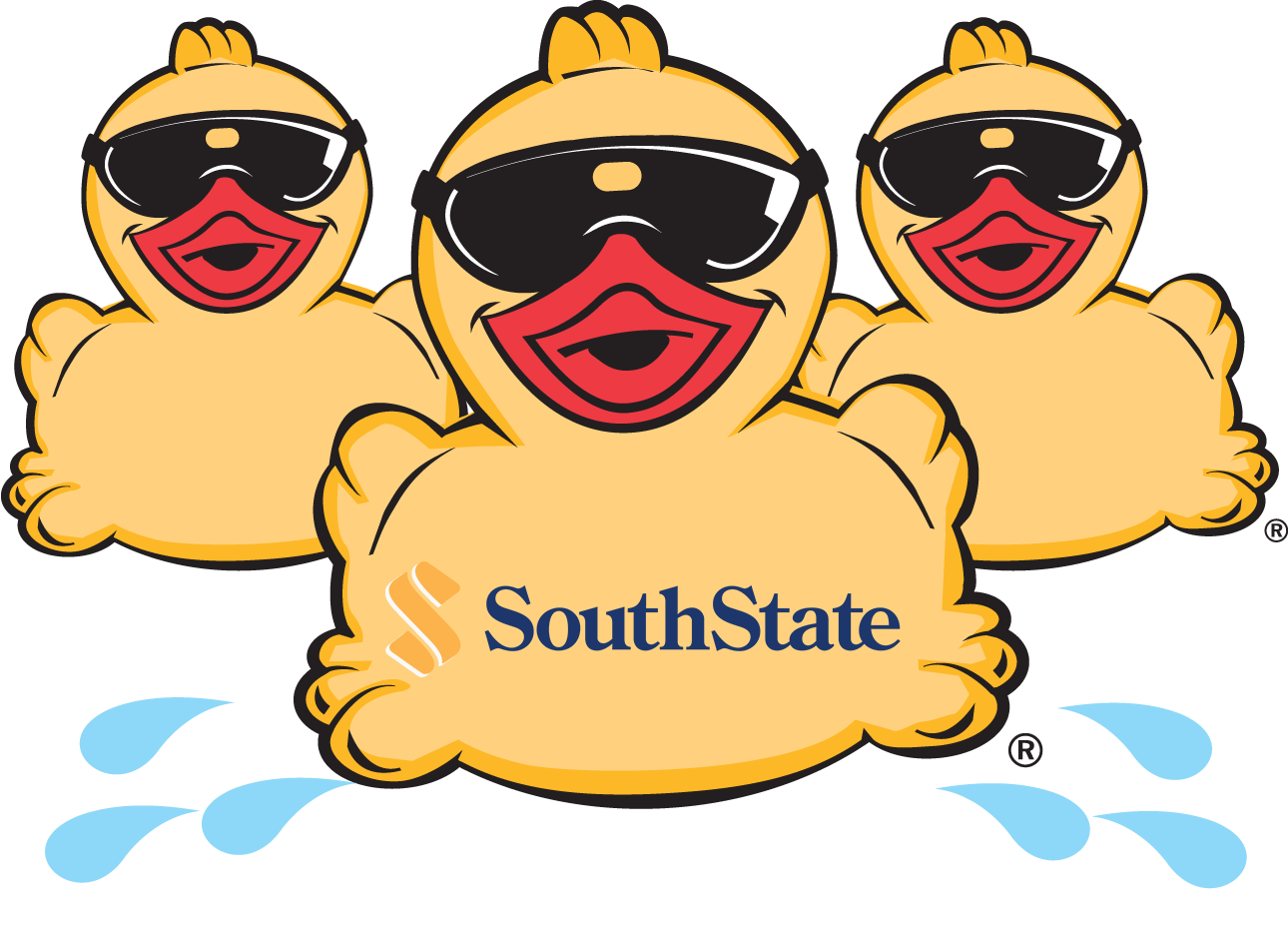 SouthState Bank is proud to be the Presenting Sponsor for the Incredible Duck Race!
Our employees understand the importance of "service". We volunteer our time and effort to groups and causes in the communities we serve. Our business structure is designed to value the unique character of the communities we serve and to encourage decision making by the banker that is closest to the action. We will exceed our clients' expectations by anticipating their needs and responding with a sense of urgency. Each of us has the freedom, authority and responsibility to do the right thing for our clients.

Our bank is built on life-long friendships. We communicate with candor and transparency. We believe that the relationship is more valuable than the transaction. Visit www.southstatebank.com to learn more.

~~~ About the Incredible Duck Race ~~~
Get your Ducks in advance, you don't have to be present to win!
The Kiwanis Club of Tampa will race 10,000 Rubber Ducks down the Hillsborough River on April 8, 2023. The first three ducks to cross the finish line will win amazing cash prizes! You don't have to be present to win.

First Place Prize - $5,000




Second Place Prize - $1,000

Third Place Prize - $500

Additional

prizes for 4th-10th Place
All proceeds will benefit the Kiwanis Club of Tampa charitable foundation, which sponsors many local projects and programs for children. Although we would love to have you attend, you don't need to be present to win - so take a chance and adopt a duck!
The Incredible Duck Race is a FREE event in Curtis Hixon Park with family friendly music, food, and activities all leading up to the big race.
Tickets are not necessary to attend, but you must adopt a duck to participate in the race.
Ducks can be adopted at
TampaDuckRace.com
for $5 per duck.
About The Kiwanis Club of Tampa
The Tampa Kiwanis Club has been helping children in the local community since 1919. Our enthusiastic members pursue creative ways to serve the needs of children in our community. Locally we build ramps for the disabled, hold immunization events, provide a StoryWalk at Al Lopez Park, purchase holiday gifts for kids in need, provide scholarships, work with leadership clubs in schools at the middle school, high school and college level, and build reading rooms in Boys and Girls Clubs around Tampa. Additionally, our foundation provides grants to local non-profit organizations.
Learn more at
TampaKiwanis.org.
PLEASE NOTE: We are partnering with a company that runs these races all over the world and have taken many measures to be sure that these ducks are not a threat to our beautiful waterway. The ducks will be contained in a lane and funneled to the finish line. We will have several boats and volunteers on hand to help make sure all of the ducks are collected and accounted for. Our goal is to leave the river cleaner than we found it.
Want to get involved, volunteer, or sponsor the event? Email us at quack@tampaduckrace.com for more information.