Congratulations to the winners:
1st Place: $5,000 cash:
Ruth E.
2nd Place: $1,000 gift certificate to Rouses
Margaret C.
3rd Place: 2 round-trip tickets from Southwest Airlines
Nancy G.
4th Place: Loews Hotel stay & dinner at Cafe Adelaide
Myra H.
5th Place: Box of Cane's each week for a year
Kim G.
6th Place: PJ's Coffee for a year
Steve V.
7th Place: Suite at a Zephyr's game
Maryann H.
8th Place: $250 gift card to Massey's
Lane H.
9th Place: Bike from Bicycle World
David G.
10th Place: Round of golf from Chateau Golf & Country Club
Mike P.


Adopt a duck, and make a difference in the lives of children and families. For every $1 raised, Second Harvest Food Bank can provide 3 meals to those in need across South Louisiana.
RUBBER DUCK DERBY DETAILS
:
Thousands of rubber ducks racing for the g
rand prize of $5,000!
Winner need not be present to win.
WHEN?:
May 31, 2015 at 4 p.m.
WHERE?:
Big Lake at New Orleans City Park.
WHY?:
All proceeds support Second Harvest Food Bank and our mission to fight hunger across South Louisiana!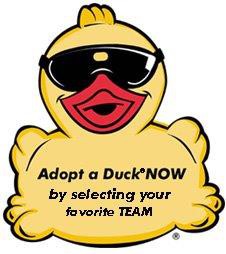 Our Sponsors