2014 Winners:
1st Place:

Soraya Doris
2nd Place: Peggy McBeth
3rd Place: Jessica Malinski
4th Place: Cynthia Manslank
5th Place: Kelly Conners
6th Place: Ed Dixon
Congratulations to everyone and THANK YOU for supporting Second Harvest Food Bank!
SOLD OUT!
Thanks to thousands of our Second Harvest supporters, we have completely sold out of ducks for Sunday's Rubber Duck Derby! A huge thanks to everyone who 'adopted' their ducks. Please join us for the big event this Sunday afternoon at 4 at the Mid-City Bayou Boogaloo Fest. If you missed out on getting a duck, you can also still support the mission of Second Harvest in many ways...Click HERE for info on other ways to donate and assist our programs thatsupport more than 300 partner agencies in 23 parishes across South Louisiana.






Adopt a duck, and make a difference in the lives of children and families. For every $10 raised, Second Harvest Food Bank can provide 28 meals to those in need across South Louisiana.
RUBBER DUCK DERBY DETAILS
Thousands of rubber ducks racing in Bayou St. John! Grand Prize is $5,000! Winner need not be present to win.
WHEN?
May 18, 2014 at 4 p.m.
WHERE?
At the Mid-City Bayou Boogaloo Festival on Bayou St. John
Live Music, Local Food, Artist Booths, and Fun for ALL
Don't Miss the 2014 Rubber Duck Derby race at 4 p.m.!
WHY?
All proceeds support Second Harvest Food Bank!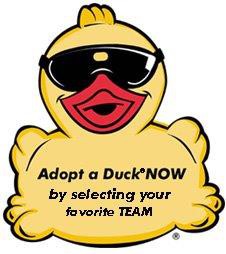 Prizes
Grand Prize

4th Place

Two-night stay at Loews New Orleans Hotel

and Dinner at

Cafe Adelaide
Our Sponsors