Second Harvest is excited to return to City Park for our 2021 Duck Derby!
This has been a time of unprecedented challenges. People have been turning to Second Harvest Food Bank for the first time in their lives and others have needed us more than ever before. We thank all of our Duck Derby supporters for making a difference in the lives of the families, children, and seniors we serve every day across Greater New Orleans and South Louisiana. Thanks to you, Second Harvest was able to provide more than 65 million meals to people in need – a 70% increase compared to previous years and we expect to continue responding to an increased level of need through the end of 2021.
What is the Ducky Derby? It's a signature annual fundraiser benefiting Second Harvest Food Bank! All proceeds benefit Second Harvest Food Bank and our fight against hunger across South Louisiana.
How do I enter the Duck Derby? You can Sponsor a duck for only $5. You do not need to be present to win.
* Are you entering Duck Derby on behalf of a friend, co-worker or family member affiliated with a Sales Team? If so, be sure to select the team you want to get credit for your entry - click here to see a list of our teams.
How do I get involved? Duck Sales teams are forming now. Put together a group of friends, colleagues or family members to join the fun. Teams compete for bragging rights and great prizes. To form a team click here. For more information on starting a team or to volunteer, contact Kathryn Gsell at kgsell@secondharvest.org.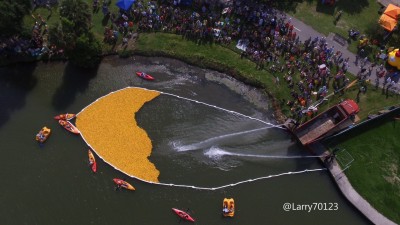 Prizes
Thanks to our prize donors!



Our Sponsors
Thanks to our sponsors!