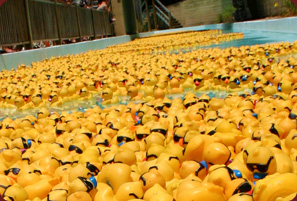 Support Second Harvest Food Bank and join my Duck Derby team!

Enter your $5 ducks for a chance to win the $5,000 grand prize, a $1,000 gift certificate to Zuppardo's Family Market, a year of Raising Cane's & other great prizes!
Your duck entry will directly help Second Harvest's mission to fight hunger across 23 parishes of South Louisiana.

This past year has been a time of unprecedented challenges. People have been turning to Second Harvest Food Bank for the first time in their lives and others have needed us more than ever before. We thank all of our Duck Derby supporters for making a difference in the lives of the families, children, and seniors we serve every day across Greater New Orleans and South Louisiana.
Thanks to donors like you, Second Harvest was able to provide more than 75 million meals to people in need – a 70% increase compared to previous years.

The Duck Derby is Saturday, October 23rd and will be held at our facility and streamed live to the public. We will post a link to the live stream on duckrace.com/nola.

Thanks for your support!

Shannon
Grand Prize - $5,000 cash!
2nd Prize: $1,000 Gift Certificate to Zuppardos' Family Market
3rd Prize: Raising Cane's for a Year
4th Prize: Bicycle World of Louisiana Manhattan Aero Cruiser
5th Prize: Creole Cuisine Restaurant Concepts $250 Gift Card
6th Prize: Delta World Tire - $250 Gift Card
7th Prize: Honey Baked Ham, 5300 Tchoupitoulas Street - $250 Gift Card
8th Prize: Main Squeeze Juice Company - Gift Basket
9th Prize: Port Orleans - Beer for a Year & Private Party
10th Prize: Red M Studio - Photography Session & Wall Portrait
11th Prize: Rich's Wash Dat - $250 Gift Card
12th Prize: Theo's Pizza for a Year