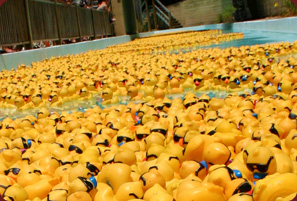 Will you help me help local Special Olympics athletes by adopting a duck and bonus you get a chance to win some amazing prizes!
It's that time of year again... the Southern Ducky Derby is right around the corner!! This year's race will be held virtually on Sunday, October 4th with a festival to announce the winners at Walkers Bluff in Carterville. Prizes include cash, a stay and play golf package from Kellers' Crossing at Stone Creek, Disney Park Passes and more!! Each duck adopted helps support more than 23,000 athletes and over 17,000 Young Athletes participate, at no cost, in Special Olympics Illinois programs.
If you would like to adopt a duck on behalf of our team, please click on the link below! Duck adoptions are $5 for one entry, $25 for a Quack Pack (6 ducks for the price of 5) or $100 for a Flock of Ducks! All proceeds benefit the athletes of Special Olympics Illinois!