Who does The Burg Duck Derby benefit?

This is a community event hosted by Providence Classical School to benefit the school and five local charities as chosen by our students. Proceeds from The Burg Duck Derby will benefit:
Please click on the name to visit the website of each organization for more information about their respective missions.
Do you use real ducks or rubber ducks?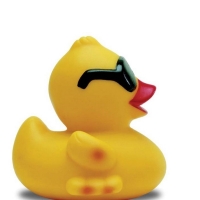 Once I adopt a duck, do I get to keep it?
No. After The Burg Duck Derby event, all of the ducks will fly off to their next event somewhere in the U.S.A.
How do the ducks get in the water?

Our logistics partner, Bruce Howard Contracting is picking up the rubber ducks from Providence Classical School and transporting them to Jamestown Beach Event Park. Once the ducks have arrived, a volunteer team will load them into a front loader and Bruce Howard Contracting will drive them down the beach and dump the ducks into the James River!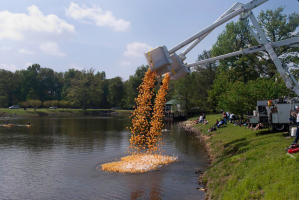 How are the ducks contained once they're in the water?
An area will be sectioned-off using snugly connected pool noodles. The ducks are unable to cross over the barrier into the open river. Nevertheless, we will have some boaters stationed outside the designated area to collect any ducks that should happen to leave the flock! After the winning duck has been selected, the ducks will be dragged back into shore and collected for their next race day somewhere else in the USA.
What else is happening at The Burg Duck Derby Event other than dumping the ducks?
The event is designed to be a family friendly festival. There will be a midway tent area with fair games and prizes, a bounce house, a giant inflatable slide, face painting, photo booth, caricature artist, food trucks, and music. The ducks will be dumped into the James River around 3:00 pm.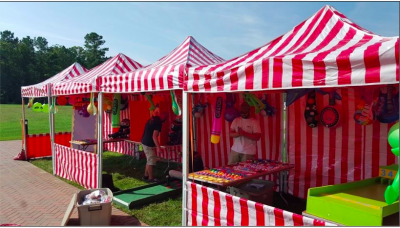 How does the duck adoption process work?
Everyone who adopts a duck, whether online, in the mail, at a booth or at a sponsoring business is entered into what we call Equack, a database that stores all of the information. Next to each adopter's name in Equack is the number of ducks they adopted. Equack automatically assigns the number of ducks you have adopted with random tag numbers. If you adopt 6 ducks, your name will be placed next to 6 different duck tag numbers in the Equack database. All 5000+ ducks will be dumped into the James River and one lucky duck will be plucked to win a $1000 cash prize.
Is the Equack database a secure site?
The Equack.com web address includes https:/ which indicates website security. All communication between the browser and Equack is encrypted. Equack also uses Authorize.net for credit card transactions which is an SSL encryption technology to protect all payment information.
What if you only have 4,000 ducks adopted but you dump 5,000 ducks?
If all of our ducks have not been adopted by duck derby day, it means that a lucky adopters can still adopt right up to the duck dump time. If the winning duck has not been assigned to an adopter, then we will pluck another duck from the river to become the winner.
How will I know if my duck wins?
Providence Classical School will contact you using the information you provided with your duck adoption. You do not need to be present to win.
Do I need to be present to win?
The winner does not need to be present to win. We do hope that you will join us for the festivities though! We will have food trucks, bounce houses, a fair midway area with fair games, music, and more!
Is there an admission fee for The Burg Duck Derby?
No, the event is open to the public and will be held at Jamestown Beach Event Park, 2205 Jamestown Road, Williamsburg, Virginia 23185 from 12:00 p.m. to 4:00 p.m. The duck dump will occur around 3:00 pm.
How do I contact someone at Providence Classical School if I have questions about The Burg Duck Derby?
Please contact our event coordinator, Rita Stryker at 757-903-9811 or our school front desk 757-565-2900.