It is with deep sadness and regret that we announce the cancellation of our fundraising event, the Duck Pluck Festival, due to misinformation provided by the gaming division of the state of North Dakota regarding our authority to host the event under our current gaming license. On Monday, August 17th it was discovered, and we were notified, that we were not in compliance with state gaming guidelines and we were given no choice but to cancel the event. The Duck Pluck Festival was scheduled for Saturday, September 12th at Urban Plains Park.
All parties involved are devastated by this turn of events – the North Dakota State gaming officials, GAME, Inc. (our event partner), our sponsors, community partners, but no one more so than our Boys & Girls Club board, staff, and the youth and families we serve.
FAQ
Q: I have already adopted my ducks, what happens now?
A: We want to thank you for sharing in our enthusiasm for this quacktacular event and for your desire to support our mission. Out of fairness and transparency, the duck adopters have been notified that 100% of all duck adoptions will be refunded within 2-3 business days, including processing fees.
Q: Why can't you host the event virtually?
A: Due to the gaming compliance issue, we don't feel we have adequate time to address the changes necessary to host the event in a way that will honor our commitment to our sponsors, duck adopters, and community partners and still allow us to continue to raise the necessary funds to ensure the event is a financially sound investment for our Club.
Q: Is there still a way we can support the Duck Pluck Festival?
A: Sadly, no. However, as we head into the school year our teens, kids, and their families will need us more than ever! At the Boys & Girls Clubs of the Red River Valley, we are uniquely positioned to help. With your support in the form of a separate donation to our Club, we will aid in the reversal of learning loss from the months out of school, restore a feeling of safety in a time of uncertainty, give kids something fun to do and let them focus on the important business of just being a kid.
If you would like to continue to support our mission to provide a safe, caring and fun environment for kids to learn, grow and prepare for a bright future, please make your donation here.
Q: Will you host the event at a later date?
A: The fact that over 1,000 ducks were adopted in just two short weeks shows us that you were as excited about this event as we were! While we do not have a date set at this time, we do plan to bring the event back bigger, better, and quackier in 2021.
Thank you for your patience and understanding as we work through this devastating loss for our Club. Like many businesses in our community, we too were impacted this spring by having to close our doors due to the pandemic. Funds raised by the Duck Pluck Festival were intended to help offset these losses. However, we are a dedicated group here at the Boys & Girls Clubs of the Red River Valley and we will work harder than ever to do whatever it takes to support our Club Kids and families.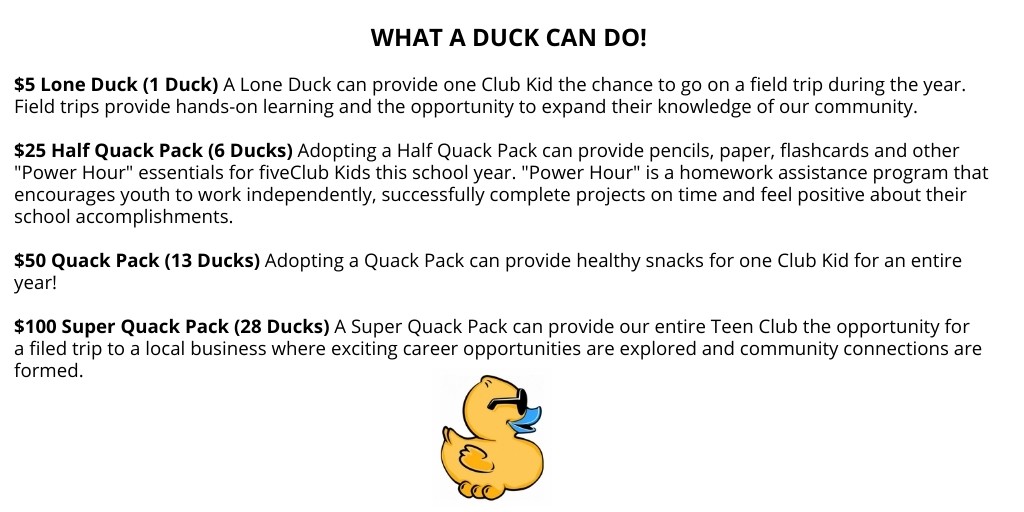 ADOPT A DUCK FOR A CHANCE TO WIN SOME GREAT PRIZES!
PLUS, an additional 12 ducks will be plucked from the pond for even more great prizes and chances to win!
NOTE: We are living in some pretty quacky times, so if we cannot flock together at Urban Plains Park, don't worry - we have a plan in place to host the pluck virtually!
So, ADOPT AWAY because you'll still have a chance to win some great prizes and the proceeds will still support the quacktacular work we do at the Boys & Girls Clubs of the Red River Valley!

Our Sponsors
PRESENTING SPONSOR
TOP DUCK
QUACKER BACKER
LUCKY DUCK
FEATHERED FRIEND