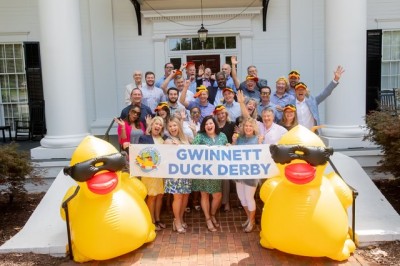 2023 Gwinnett Duck Derby
The Rotary Club of Sugarloaf will host the 9th Annual Gwinnett Duck Derby online on August 31st, 2023. Follow us on Facebook to view our live event (drawing scheduled for 5:30 p.m.) and find out who will be a lucky duck this year! The winners will be chosen through a random number generator provided by GAME fundraising services. Those who adopt a duck will have the chance to win a cash prize of $2,500 along with other great prizes!
As the largest fundraising event for the Rotary Club of Sugarloaf each year, net proceeds of more than $100,000 have benefited many local charities including the Special Needs Schools of Gwinnett, Lawrenceville Boys & Girls Club, Annandale Village, Gwinnett Medical Center Foundation, Rainbow Village, Gwinnett County Library Foundation, Gwinnett Tech, Because One Matters, Nothing But the Truth Food Ministry and several title I schools in Gwinnett County. We've also funding district and international projects endorsed by Rotary including Alliance for Smiles and Rotary Has Heart.
Our Sponsors
Diamond Duck Sponsors
Gold Duck Sponsors
Silver Duck Sponsors
Bronze Duck Sponsors
Supporter Sponsors
In Kind - value of $250 or more