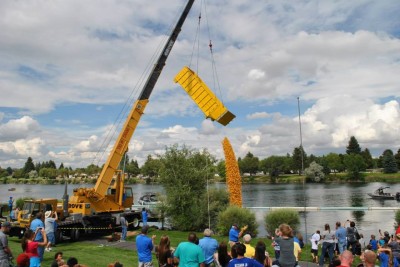 Hooray! The Duck Race is Back!
Join us for the 32nd Annual Great Snake River Greenbelt Duck Race
Sponsored by the Idaho Falls Rotary Club to benefit the Greenbelt Riverwalk project
s.

Classic car, motorcyclists, and drag racing enthusiasts, this event's for you!
The Idaho Falls Rotary Club is kicking the Duck Race off by hosting pre-race activities the evening before the Duck Race.
Saturday, August 12, 2023 - Ducks drop to race at 4 pm.
Festivities planned from 10:0 am - 4 pm along the west side of the greenbelt.
Friday, August 11, 2023 - Pre-Duck Race Event
6 pm - 8 pm, at Stone's Kia - Woodruff Avenue
Classic Car Cruise - Poker Run - Live Music - Free Dinner
Classic car enthusiasts, Friday's events are for you! Bring your classic or custom car, truck, or motorcycle and join them for a Classic Car Cruise at 5:30 p.m. The Cruise will start at 6 p.m. from
The
Mountain America Center, 1690 Event Center Drive, Idaho Falls, ID.
The Cruise and Poker Run will end at Stone's Kia, 1222 N. Woodruff Avenue, Idaho Falls, ID
where prizes will be awarded at 7:00 p.m. and at 7:30 p.m. there will be an Exotic Car Demonstration.
There will be a variety of events f
or all ages on Saturday from 10 a.m. to 4 p.m., including high performance Boat Racing, Truck Show, Motorcycles, and Off-Road. Other fun events include National Guard Display and Course;
Muscle Man and Woman Semi-Truck Pull; Landon Excavating Ping-Pong
Sling
;
USA Jump Rope Champions; Vendors; Idaho Air Rescue; and Idaho Falls, Ammon and INL Fire Department equipment displays.
The famous duck drop will occur at 4 p.m. on Saturday, just north of The Falls overlook near the Best Western Driftwood Inn. The first ducks to drop over The Falls will be the winners of the 2023 Duck Race! Winners will be announced on the Great Snake River Greenbelt Duck Race and Idaho Falls Rotary Club Facebook pages, as well as local media outlets.
Over the past 32 years, the Rotary Club has raised more than $6.5 million through duck adoptions, with matched funds by the
City of Idaho Falls
. After event expenses, all of the remaining funds go into making improvements along the River Walk/Greenbelt. For the past six years, the funds have gone toward the development of the city's newest park along the River Walk – Heritage Park.
Grand Prize – Stones KIA 2023 KIA Seltos: Brett Johnson

First Prize - Idaho Central Credit Union 2023 Suzuki King Quad 4-Wheeler: Carla Farris
Second Prize - Alpine Jewelers $2,500 14kt Diamond Earrings: Carmen Ramos
City of Idaho Falls - $1,800 Two Season Golf Passes:
Danny Wirdel
$1250 Dining #1: Earl and Deb Hensley
$1,250 Downtown Package: Danelle Cummings
$1,000 Eastern Idaho State Fair: Lindsey Barber
$1,000 Original Watercolor – Gloria Miller Allen: Perry Robertson
$1,000 Dining Package #2: McKenna Bajo
$1,000 Sam's Club Gift Certificate: Tiffany Hefner
Bill's Bike & Snow $1000: Bridget McAffee
Carey Law $1000: Brian Bigelow
2022
Duck Race Winners
Jeep Limited WILLYS from Idaho Falls Cars & Trucks: Doyle Crossley
Polaris 4 Wheeler from ICCU: Deedee Martin
Two 2022 Season Golf Passes: Kurt Krupp
Original Watercolor by Gloria Miller Allen: Larry Stucki.
Dining Package #1 $1250: Shawn Cleverly
Dining Package #2 $1100: Jeffrey Arlen
Eastern Idaho State Fair Pass - 4 passes to every event $1100: Shelly Woolstenhulme
$1000 Fuel Certificate for KJS Super Store: John Wilson
$1000 Sam's Club Certificate: Jordan Fielding
$1000 Ski Rental for 4 from Bill's Bike Shop: Brett Skaar
$1000 Cash Prize from Carey Law: Dana Mitchell
2014 Rubicon Jeep courtesy of Idaho Falls Cars & Trucks - Sue Holmes, Idaho Falls
2021 Polaris 4 Wheeler courtesy of Idaho Central Credit Union - Fay Lloyd, Idaho Falls
Alpine Jewelers $3000 prize - Kim Nickens, Idaho Falls
Golf Passes – All 3 Idaho Falls Golf Courses - Becky Ames, Blackfoot
Sam's Club - $1000 gift certificate - Amy Lenhart, Chubbuck
Original Gloria Miller Allen Watercolor - Jeanette Anais, Idaho Falls
Dining Package #1 - Jace Crain, Pocatello
Dining Package #2 - Rick Erfurth, Idaho Falls
Eastern Idaho State Fair Prize – 2 tickets to every grandstand event plus food - Dennis Hanson, Idaho Falls
Grand Targhee Resort 2 Ski passes plus overnight lodging - Miciaih Boetker, Idaho Falls
KJ's Super Store - $1000 gift certificate - Ariel Crew, Idaho Falls
Carey Law - $1000 cash prize - Gary Boetker, Idaho Falls
The Ducks are Back to Race!
Our Sponsors