Prizes
Fastest Quacker - First Place

One Thousand Dollars ($1000.00) goes to the first duck to cross the finish line and touches the wall.

So Close Quacker - Second Place

Five Hundred Dollars ($500.00) goes to the second duck that crosses the finish line and touches the wall.

Tried Hard Quacker - Third Place

Two Hundred Fifty Dollars ($250.00) goes to the third duck to cross the finish line and touches the wall.

Slacker Quacker - Last Place

Fifty Dollars ($50.00) goes to the last duck to cross the finish line and touches the wall.

Just Keep Swimming

PRIZES FROM OUR FEATHERED FRIENDS




**All of these prizes from our amazing sponsors will be up for grabs the day of the EVENT. (Must be present to win these awesome giveaways)

Big Creek Winery - Bottle of Concord Saddle Up wine from Giles County
Big Creek Winery - Bottle of Blueberry Wine

Dixie Maid from Giles County

Toots - $10.00 Gift Certificate

Toots- $10.00 Gift Certificate

Mister Car Wash -

4 Platinum Exterior wash passes

Oh Gracious Cakes - Two Dozen Cupcakes of your choice
Oh Gracious Cakes - Two Dozen Cupcakes of your choice
Big T's Wheel & Tire - Free Rotate and Balance
R R Woodworking - 14 x 24 Wooden Flag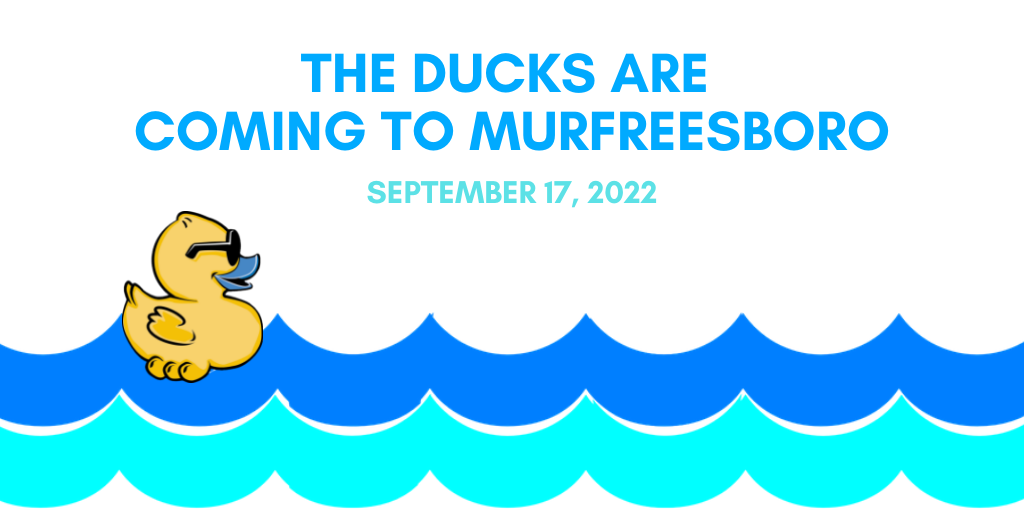 What is The Gr8t Duck Chase?
On September 17, 2022, we will flock together at Sportscom for the First Annual Gr8t Duck Chase. For just 8 Bucks you can adopt your Rubber Ducks! Presented by our wonderful Sponsors, 2,500 rubber duckies will slip and slide down the Murfreesboro Beach outdoor pool competing for First, Second, and Third Place prizes! Even the Slacker Quacker coming in last place will have a chance to win! We will have food trucks, vendors, & a Golden Duck Jeep contest! You don't have to be present to win, but why miss the fun?
Adopt your duck for a chance to win and help families with sick children in Middle Tennessee.
**adoption total of raced ducks is subject to change
Tenative Schedule:
WHEN: September 17, 2022 10:00 AM - 2:00 PM
WHERE: Sportscom, 2310 Memorial Blvd. Murfreesboro, TN 37129
10:00 AM - 11:00 AM: Walk up registration for ducks and Jeeps
11:30 AM - We have winners Duck Chase begins
12:00 PM - 1:00 PM Eating, Shopping & Voting for Jeeps
1:30 PM - 2:00 PM - Presentation of Trophies & Prizes
Golden Duck Jeep Contest Entry Fee:
$10.00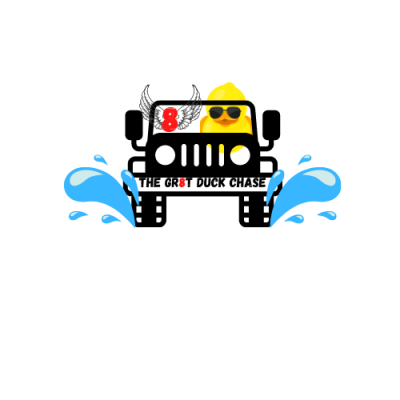 Trophies for:

The Golden Duck - Best of Show
Best Name- Fits the Jeep perfectly
Most Unique - rarest Jeep in attendance or uniqueness of modifications
Best Vintage Jeep - 1941-1985 judged to original factory standard appearance
Best Non Wrangler - Other model Jeeps need love too!
The rubber Duck has become an iconic symbol for Jeep owners! The phenomenon known as #DuckDuckJeep, is a global movement that emerged from a single, random act of kindness by Allison Parliament, the founder of Duck Duck Jeep. If you would like to learn more about her story of how a traumatic experience and an inexpensive rubber duck led to the formation of what is now an international off-roading community, click here.
Meet Our Namesake - Chase
Chase was diagnosed with Burkitt's Lymphoma two days after his tenth birthday. He battled cancer for almost eight months before succumbing to the disease.
Chase was like the sun: Brilliant, radiant, and able to light up the world. He was a rare soul who found caring and loving others an easy priority. Throughout his fight, he still put others needs and wants before his own. When he was asked by the Make-A-Wish foundation what would he like to have or do, he asked for new gym equipment for his school, rather than anything for himself.
At the end, he didn't fear dying, he feared being forgotten. Our goal is to continue his legacy by putting others first, helping where we can, and choosing hope in dark circumstances. It is our goal to continue to raise awareness for childhood cancer, and other childhood illnesses while making it easier on those who live with that disruption of their lives. Helping ease the burden for those in the fight is exactly what Chase wanted to do.
Matthew 17:20 says, "and Jesus said unto them, because of your unbelief: verily I say unto you, if you have faith as a grain of a mustard seed, ye shall say unto this mountain, remove hence to yonder place; and it shall remove; and nothing shall be impossible to you."
Chase had a way of leaving you with a mustard seed, and now, we will move mountains for him. It is time to have a "C" word that causes smiles, instead of fear; one that can't be forgotten: The Gr8t Chase.
Our Sponsors
A Golden Duck
Quack Pack
Ritz Quacker
Feathered Friend
Adoption Site