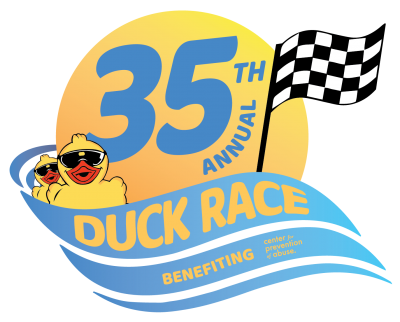 35th Annual Duck Race

Benefitting the Center for Prevention of Abuse
Saturday, August 26, 2023

EastSide Centre, East Peoria, IL
Ducks race at 1 p.m.


The Duck Race is CFPA's longest-running and signature fundraiser. Now through August 26, 35,000 ducks are up for adoption for $5 each and every duck you purchase enters you for a chance to win one of this year's 15 prizes - including the grand prize of $10,000 cash!
Last year, we raised more than $200,000 for survivors of abuse in our community and sold out of all 30,000 ducks!
All funds raised for the Duck Race stay local and help us build a safe and peaceful community. CFPA provides free and confidential services to victims of human trafficking, domestic violence, sexual abuse, sexual assault, elder abuse, and offers violence prevention education to students helping to prevent abuse before it begins in the tri-county area, reaching more than 38,000 young people each year.
Thank you for supporting our mission at CFPA. We are grateful for your friendship.
*Are you adopting a duck on behalf of a friend, co-worker or family member affiliated with a Duck Race Team? If so, be sure to select the team you want to get credit for your adoption. Click on a team member name to give credit to a specific person.
Duck Race Prizes Winners 2022
1. $10,000 cash grand prize – Kathleen-Degnan Dudley – Peoria, Ill.
2. $5,000 cash prize sponsored by Bob Lindsay Honda/Acura – Andrew Kowalske – Chicago, Ill.
3. $2,500 cash prize – Joseph Clark – Crystal Lake, Ill.
4. Bremer Jewelry Bundle sponsored by Bremer Jewelry – Mary Snyder – Chillicothe, Ill.
5. Chicago Cubs Tickets for Two and VISA gift card – Betsy Bladel – Peoria, Ill.
6. 55" Samsung Smart TV sponsored by Paul Davis Restoration – Cathy Alessi-Hausenbauer – Thousand Oaks, CA
7. iRobot Roomba i3 sponsored by Davis & Campbell L.L.C – Margaret Gutgesell – Germantown Hills, Ill.
8. Blackstone Outdoor Griddle and Local Meat Bundle sponsored by C.T. Gabbert Remodeling and Construction – Amanda Pope – Peoria, Ill.
9. Home Theater Package sponsored by Hediger and Meyers Insurance – Cathy Mahrt –Washington, Ill.
10. Club Carwash MVP Package – Jennifer Morris – Dunlap, Ill.
11. Date Night in East Peoria – Diane Pendarvis – Peoria, Ill.
12. Theragun Prime Massage Gun sponsored by Kriegsman Warehouses – Barbara Gurtler – Peoria, Ill.
13. Treat Yourself Gift Card Bundle sponsored by Curvology, Jeffrey Alans, and Hoerr Nursery – Dia Rianda – Salinas, CA
14. Presleys Outdoors Fisherman's Bundle – Nicole Schiever – Tinley Park, Ill.
15. LEVOIT Air Purifier sponsored by Lippmann's Furniture and Interiors – Patricia Wagner – Peoria, Ill.
Our Sponsors
Premiere Sponsors
Gold Sponsors
Silver Sponsors