Adopt a Duck for the 1st Annual

Saturday, February 8, 2020 from 10 a.m. to 2 p.m.
What is the Marion Rotary Duck Derby?
The Rotary clubs of Marion County will race 5,000+ Rubber Ducks on Lake Tuscawilla in Midtown Ocala at 1 p.m. on Saturday, February 8th, 2020. If you adopt a duck and your duck is one of the first three ducks to cross the finish line, you'll win an amazing cash prize!
The Duck Derby is an exciting fundraising activity which is combined with the Ocala Cattle Drive & Cowboy Round-Up, the annual festival celebrating Central Florida ranching and cattle history.
Where is the Marion Rotary Duck Derby?
Don't miss the Cattle Drive through downtown Ocala all the way to Tuscawilla Park in Midtown where the festivities will begin! Enjoy family friendly music, food, and activities for children all leading up to the big Duck Derby race on Lake Tuscawilla. You don't have to be present to win, but we hope you will join us to watch your duck race on the lake and enjoy the fun and festivities. Visit MarionDuckDerby.org for directions.
Why Adopt a Duck?
Duck sales will primarily benefit the Discovery Center — a family Science Center providing an interactive educational experience which stimulates a desire to expand personal knowledge. Other charities supported by the Rotary clubs of Marion County will also benefit.
The Rotary clubs of Marion County have been benefiting our local community since 1919, over 100 years! Our enthusiastic members pursue creative ways to serve the needs of our community—especially children. To learn more about the Rotary clubs of Marion County, visit OcalaRotaryClub.com
Can I Adopt More than One Duck?
Absolutely! This event is about generosity and benefiting our community. We hope you'll adopt a whole flock! Adopt one duck for only $5, six ducks for $25 or a flock of 24 ducks for $100!
Prizes
1st Place

$2,020 Cash

2nd Place

$1,020 Cash

3rd Place

$520 Cash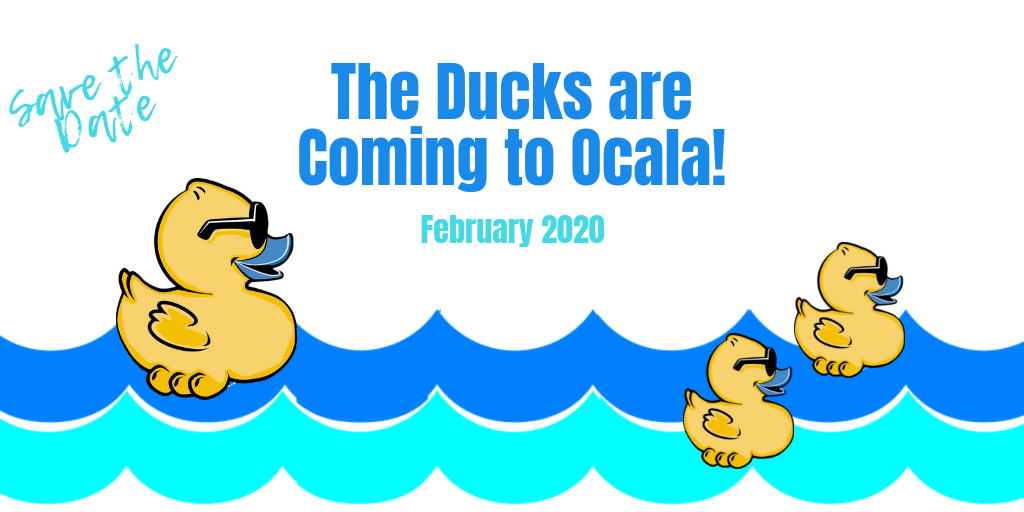 Ocala Rotary Foundation, Inc (registration Number CH33488) has complied with registration requirements of Chapter 496, Florida Statutes. A COPY OF THE OFFICIAL REGISTRATION AND FINANCIAL INFORMATION MAY BE OBTAINED FROM THE DIVISION OF CONSUMER SERVICES BY CALLING TOLL-FREE WITHIN THE STATE. REGISTRATION DOES NOT IMPLY ENDORSEMENT, APPROVAL, OR RECOMMENDATION BY THE STATE. Registration information is available by calling 1-800-HELP-FLA (435-7352) or visiting
https://www.fdacs.gov/Consumer-Resources/Charities/Charities
Our Sponsors