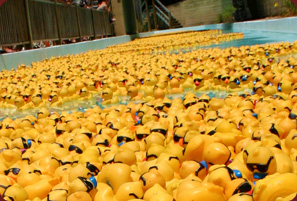 Friends,
This major fundraiser is a duck race held this year on Saturday, August 26th, with a chance to win a bunch of prizes. Sponsors cover the cost of the race, so every dollar spent goes directly to the Center. Can help me reach of a goal of 500 ducks purchased?
Wondering how your ducks could help?
1 duck = a meal at the emergency shelters
2 ducks = a session of safety planning their Order of Protection offices
3 ducks = a visit to a victim of elder abuse
4 ducks = an hour of therapy to a sexual abuse victim
5 ducks = a classroom presentation about bullying
It's not a comfortable topic, but this group is doing great work to help make the community safer.
Please visit the Caterpillar Asian Indian Community team page to make a donation (or let me know if you prefer to fill out a physical form).
Thank you for your support!

Sincerely,
Vikas Paul
Caterpillar Asian Indian Community Social Committee Peoria Chapter Chair
Team Members