Congratulations to the winners of the 17th Annual Reedy River Duck Derby! We look forward to seeing you in the park for an over-the-falls, family day of fun in 2022!
The 17th annual Reedy River Duck Derby was held as a virtual event in 2021. The winners were announced via a Facebook
Live event on
May 1st, 2021 at 2:30 PM.
The 2021 Duck Derby will operate slightly differently this year in light of the pandemic. The club will identify two charitable recipients in the community who will split the lion's share of the funds raised by the race. At the same time, the club will spend the day doing service projects at each recipient location. At 2:30 PM, the club will reconvene to announce the winners of the race live on social media. The community will have the opportunity to check in on the race and service projects throughout the day on social media.
This year's race is a unique opportunity to see the kinds of projects Reedy River and Rotary International take up in the community on a regular basis. "Our club is constantly seeking ways to go out and physically serve. Whether that's serving meals, packing food, beautifying a city park, or building houses; the Derby provides the dollars, and the women and men of our club provide the sweat equity," said club public image chair Cathy Harry.
Adoptions may be made through reedyriverduckderby.com for $10 per duck or $30 for five entries. The Rotary Club of the Reedy River Greenville will once again partner with Publix for the grand prize of one year's worth of groceries. A full list of other prizes may be found on the race website.
"Everyone enjoys Derby Day in Falls Park and the chance to win a prize," said club president Theresa Calabrese. "By going virtual this year, our club is keeping in mind the health and safety of our community, while also demonstrating why duck adoptions matter so much. The funds raised are a direct infusion into organizations which know the needs of the community and can expertly fill them."
The Rotary Club of Reedy River Greenville, a service organization of local business men and women, holds the Reedy River Duck Derby annually as its primary community service project. This is the 16th annual consecutive year that the group has organized this charitable fundraiser. 100% of the Derby profits go to local charities.
Rotarians traditionally develop community service projects to address many of today's most critical issues, especially children at risk, poverty and hunger, the environment, illiteracy and violence. Rotary Club members worldwide work to achieve the key Rotary objective of "Service Above Self."
We sincerely appreciate everyone's continued support during these unprecedented times. Your donation is critical to the needs of our community. And we look forward to returning to Falls Park in 2022.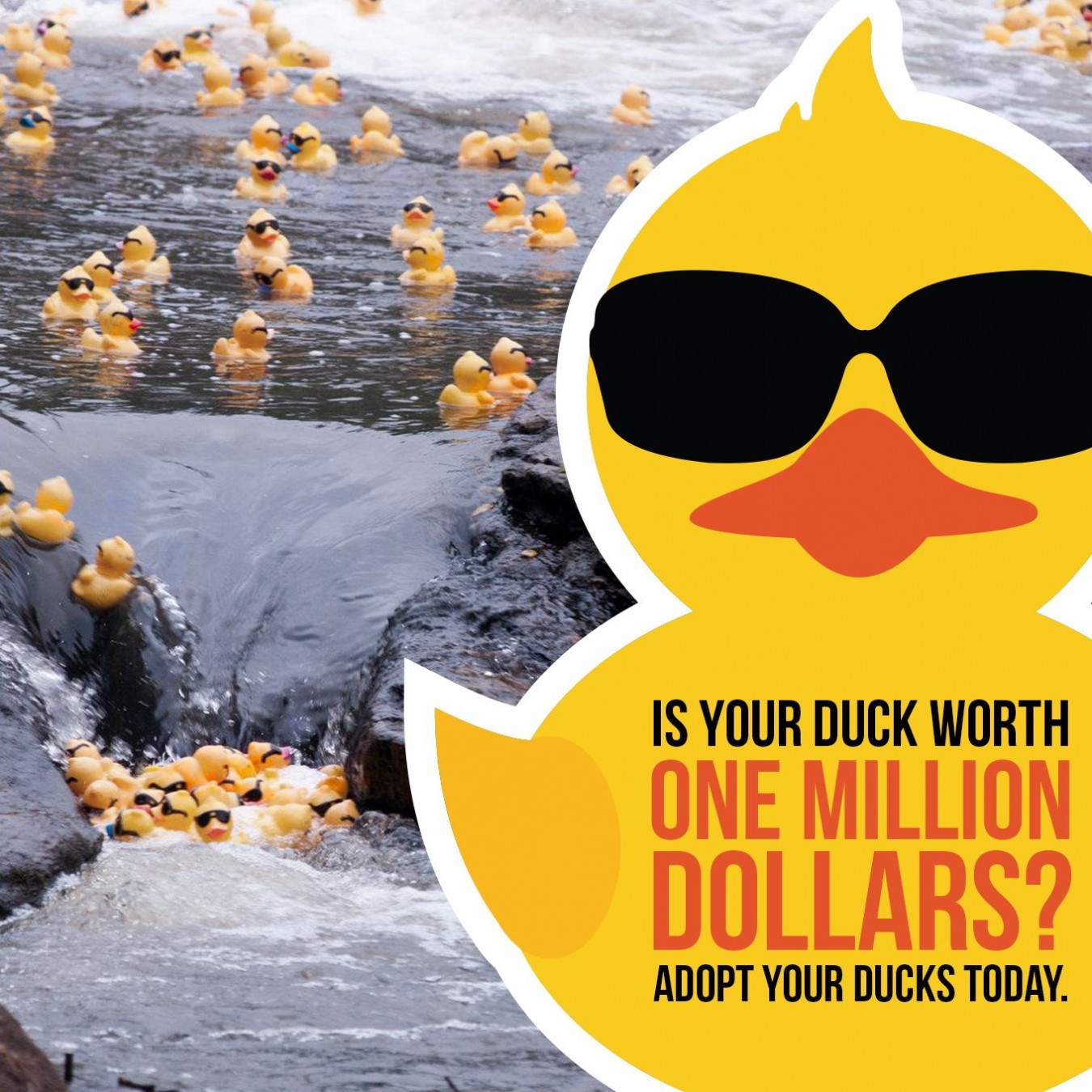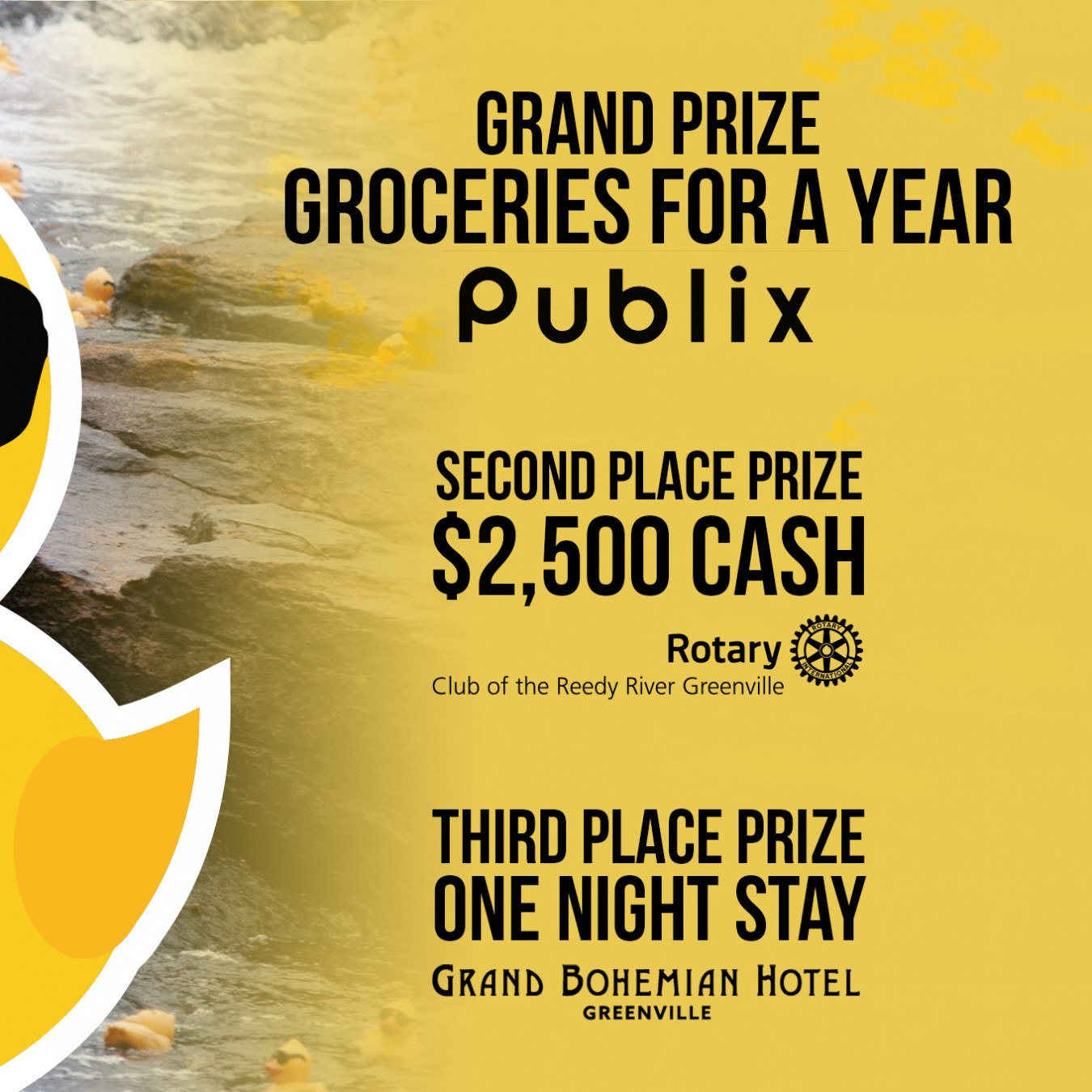 Prizes
3rd Place

One Night Stay

at the NEW Grand Bohemian Hotel

(overlooking Falls Park!)

Plus gift certificate from Spill the Beans

Camp Scholarship

Camp Scholarship

Camp Scholarship

Creative Iron Works

Metal Sculpture

Winner: Christian Turner-Slagle

12 Weeks of Training

Knight Performance Factory

10 theatre tickets & gift certificate

Camelot Cinemas

Winner: Gabriel Morse

10 theatre tickets & gift certificate

Camelot Cinemas
Fork & Plough

Winner: Sharon Howard

10 theatre tickets & Carrabbas gift certificate

Camelot Theatre

Carrabbas

10 theatre tickets & gift certificate

Camelot Cinemas

Tipsy Taco

Book of 10 washes

Book of 10 washes

Car Care Club Membership

2 night stay with breakfast

3 days day care

Computer Services

Call Brady Computer Services

Winner: Claudine Mailloux

Gift Certificate

Larry Seymour Wildlife Art

Gift Certificate

Gift Certificate

Gift certificate

Theatre tickets & gift cards

Camelot Theatre

Chick-Fil-A

10 theatre ticket

10 theatre tickets

Camelot Theatre


Winner: Karen Gladstone

10 theatre tickets

1 Year Family Museum Membership

Winner: Joe and Marla Woodman

Gift card

5 class card

Gift Certificate

1 Family Pass

The Children's Museum of the Upstate

1 Family Pass

The Children's Museum of the Upstate

Family Membership

Roper Mountain Science Center

Gift Cards

Gift Certificate

Gift Certificate

Hand Made Finger Tip Towels

Gift certificate

Scottie Hanford at Salon 208

Gift Certificate

Gift Certificates

Fiction Addiction

Liquid Highway

Gift Certificate
Our Sponsors