Join us Saturday, May 5, 2018 for the 11th Annual YESS Duck Derby
Presented by Academy Roofing & Sheet Metal Co.
This family-fun event quacks up the young and young at heart while supporting our community's most vulnerable children.
The fun starts at Noon, when you can enjoy FREE family-friendly entertainment, kids' activities, and food samples from Jordan Creek-area restaurants. At 2:00pm, thousands of yellow rubber ducks will race through the lake at Jordan Creek Town Center, all vying to cross the finish line first and be named Top Duck. Adopt your ducks for five bucks and cheer them on to victory and the chance to win fantastic prizes, including $10,000 cash.
All proceeds benefit Youth Emergency Services & Shelter (YESS). As Iowa's largest provider of emergency services for youth - newborn through age 17 - YESS touches the lives of 2,000 children per year through a range of programs designed to keep kids safe and help families thrive. YESS' network of services include Iowa's largest and most comprehensive youth shelter as well as crisis nursery care, crisis intervention and stabilization, mental health counseling, and care coordination. Learn more about how YESS connects kids with brighter futures by visiting yessiowa.org.
It's time to get quackin'! Adopt a duck. Help a child.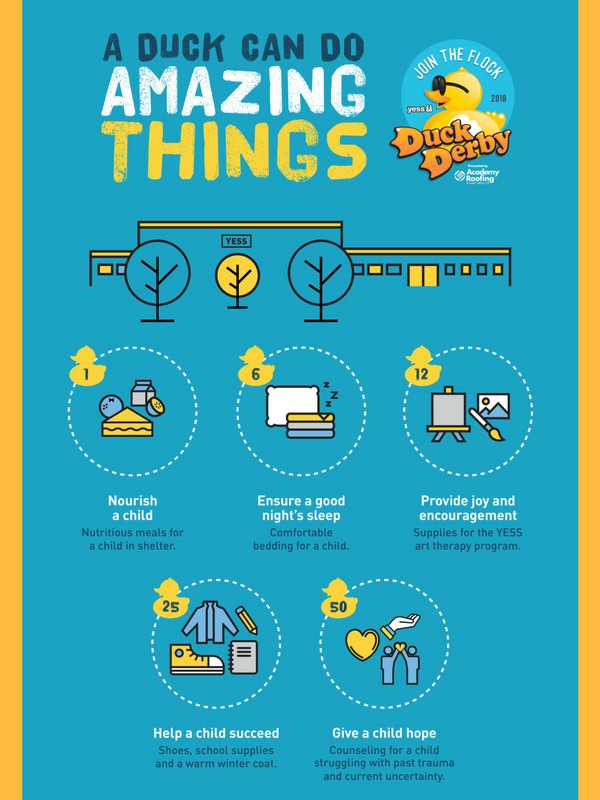 We need your help to make the event a SPLASHING success! Click the links below to learn more.
Our Sponsors