Con-quack-ulations to our 2017 Lucky Duck Winners!
1st Place ($10,000 Cash) - Elizabeth Hiltebeitel
2nd Place (Landscaping Makeover) - Jim Willer
3rd Place (In the Bag Gift Certificate) - Nick & Jill Hittner
4th Place (Microsoft Prize Package) - Valerie Bimbi
5th Place (Iowa Cubs Party Package) - Michael Berman
6th Place (Lifetime Fitness Passes) - Felix Van Der Brink
7th Place (Casey's Gas Card) - Jack Leachman
8th Place (Power Life Yoga Passes) - Christopher Helgeson
9th Place (Josephs Jewelers) - Leah Schupp
10th Place ( Jordan Creek Town Center Gift Card) - Sara Rhamy
*Winners will be contacted by a YESS representative the week of May 8.
Join us as we celebrate a 'duck-ade' of fun at the 10th Annual YESS Duck Derby on Saturday, May 6, 2017 at Jordan Creek Town Center. #AdoptADuck #HelpAChild
This family-fun event quacks up the young and young at heart while supporting our community's most vulnerable children.
The fun starts at Noon, when you can enjoy FREE family-friendly entertainment, kids' activities, and food samples from Jordan Creek-area restaurants. At 2:00pm, thousands of yellow rubber ducks will race through the lake at Jordan Creek Town Center, all vying to cross the finish line first and be named Top Duck. Adopt your ducks and cheer them on to victory and the chance to win fantastic prizes, including $10,000 cash.
All proceeds will benefit Youth Emergency Services & Shelter (YESS). As Iowa's largest provider of emergency services for youth - newborn through age 17 - YESS touches the lives of 2,000 children per year through a range of programs designed to keep kids safe and help families thrive. YESS' network of services include Iowa's largest and most comprehensive youth shelter as well as crisis nursery care, crisis intervention and stabilization, mental health counseling, and care coordination. Learn more about how YESS connects kids with brighter futures by visiting yessiowa.org.
It's time to get quackin'! Adopt a duck. Help a child.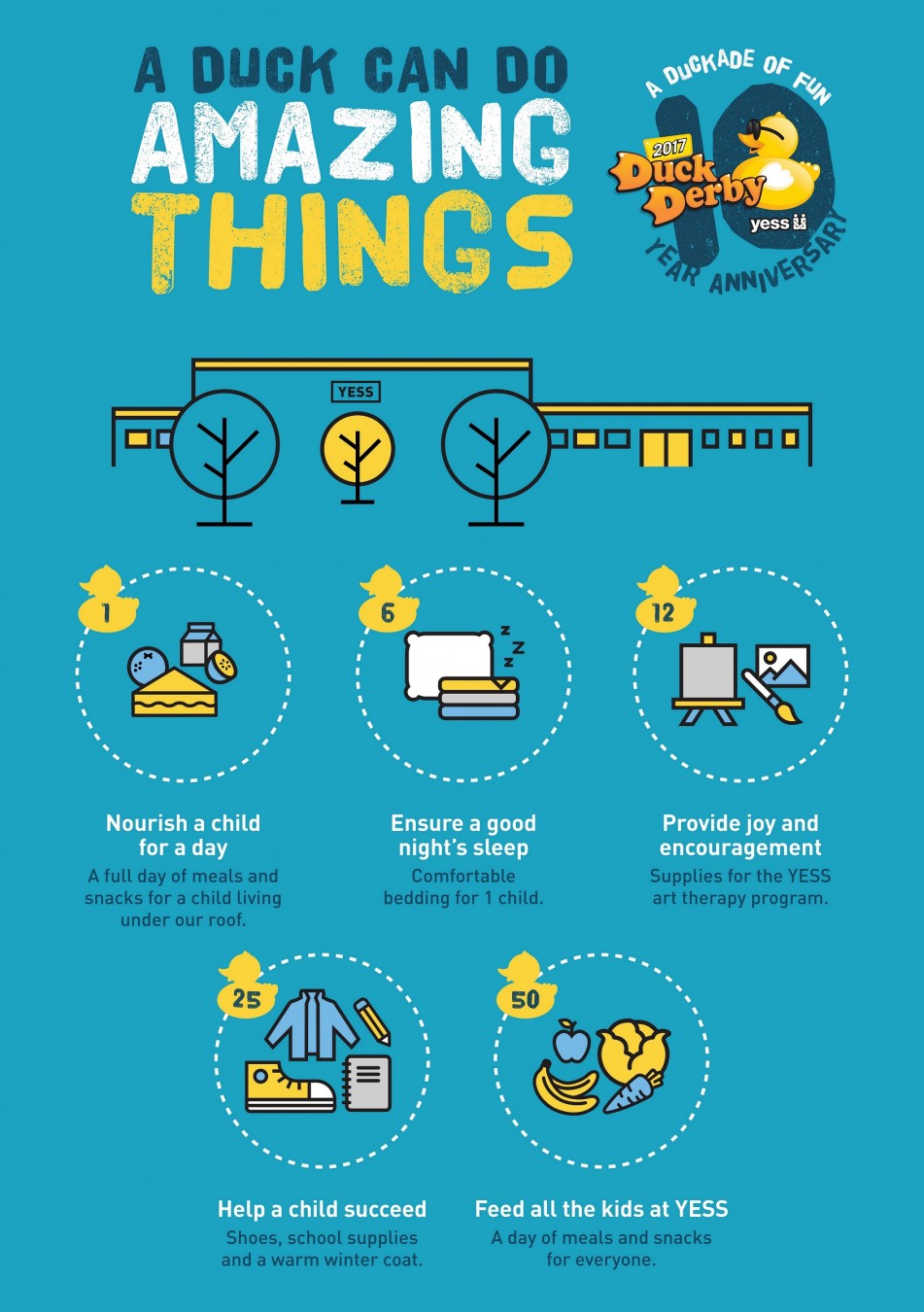 Our Sponsors