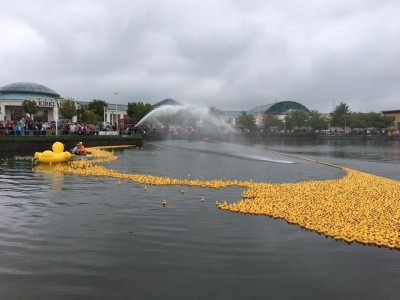 We had a wonderful time at our 3rd Annual Duck Race on October 2nd—we sold out of our 9,000 ducks and raised over $48,000!
We didn't have a $25,000 winner, but the duck we plucked belonged to Kelly Brown, who received a $500 gift card from Michael Gallagher Jewelers as a consolation prize.
We did have 5 other winners for the guaranteed prizes:
John Brainard
Grand Prize "Quacker Jacks" - $2,500 cash
Cheryl Adams
2nd Place "Down at Disney" - Trip to Walt Disney World
Evelyn Owens
3rd Place "Feather Your Nest" - $1,000 worth of great gifts for home, pets and pampering
Kathy Kerstetter
4th Place "Flock Around Town" -  $800 of restaurant gift cards
Kristin Blackburn
5th Place "Just Ducky" - $500 of grocery gift cards
Congratulations, everyone!
We have so many people to thank: All of our duck adopters and duck adoption teams; our staff and volunteers; DHA's Special Events Committee members, especially Keith & Mary Ellen Hassett, who helped plan much of the event and lead-up activities. They also adopted the most ducks to various family and friends, 908 to be exact, which just slightly beat our Director of Operations, Debra Radcliff, who adopted 903 ducks! That is PAWSOME!
We were honored to have WSFS Bank as our Presenting Sponsor. Thank you to ALL of our sponsors and vendors! Special thanks to Acadia Realty Trust for allowing us to use the fountain, Mike Rossi from 93.7 WSTW for being a great MC, Red Robin - Brandywine for a great party, Tri Supply & Equipment for the duck truck, and our friends from Talleyville Fire Company for propelling the ducks across the fountain!


Sunday, October 8, 2017
1 to 4 pm
Brandywine Town Center Fountain
Wilmington, DE
The idea is simple—"adopt" a rubber duck and join us at the Brandywine Town Center Fountain as 10,000 individually numbered ducks "race" across the water
for a chance to win

$25,000

and other great prizes! You do not need to be present to win, but we hope you'll join us for a "quacking" good time!
Race festivities will begin at 1 pm and include music from 93.7 WSTW with Master of Ceremonies Mike Rossi, a "Tail"gating party at Red Robin, contests and prizes from Camp Bow Wow, vendors, giveaways, facepainting, a moonbounce, photo opps with our mascot "Splash" and more! Ducks can be adopted until 2 pm or sold out.
The race will start around 2:30 pm when the ducks will be propelled across the Fountain. The first 5 ducks to reach the a specially made catch-tube will be plucked from the tube in succession and holders of the corresponding numbers will be awarded prizes.
Racing ducks can be adopted for just $5 each, and packages are available to anyone who wants to increase their odds of winning by purchasing multiple ducks. Adoptions can be completed on this website, in person at DHA's animal care and adoption center at 701 A Street in Wilmington, at upcoming community events, or by mail using the order form in our event brochure.
$25,000 DUCK PLUCK!

All ducks adopted will be automatically registered for a chance to win $25,000 during our post-race Duck Pluck!
The $25,000 Duck Pluck potential winning duck tag numbers will be randomly selected prior to the race and kept in a sealed secured envelope. ONE DUCK will be randomly plucked at the conclusion of the race, and a race official will determine whether the duck has one of the pre-selected winning numbers. If none of the tag numbers match, the prize will NOT be awarded. The odds of winning are 1:3000.
While this event will be very exciting, and give a few lucky people an opportunity to win great prizes, the main purpose is to raise money to support DHA's mission of helping homeless companion animals in Delaware and a four state area.
Each duck sold helps us continue to place more dogs and cats with people who want to make a furry friend for life, and to provide important low cost services to pet owners in our community, including spay/neuter surgery and vaccination clinics.

Prizes
1st Prize: Quacker Jacks

$2,500 Cash

2nd Prize: Down at Disney

$2,000 value

(4) one-day Hopper Passes to

Walt Disney

World, FL and a

week at the Sheraton

Vistana

Resort

(airfare not included)

3rd Prize: Feather Your Nest

$1,000 value

Shop Rite gift cards

3rd Prize: Flying South




$800 value




Long Weekend stay (3-4 days) in Ocean City, MD

(must be redeemed by the end of April 2018)












ABOUT DHA
Founded in 1957, Delaware Humane Association is a nonprofit no kill animal care and adoption center serving a four state area. DHA is committed to providing for the needs of homeless and owned dogs and cats, and offers temporary shelter, affordable spay/neuter services, low cost vaccination clinics, humane education, and adoption/placement services. DHA receives no government funding, and relies on the support of the community in the form of volunteers, private donations, bequests, grants, and fundraising events to complete our mission. Visit delawarehumane.org to learn more.
DELAWARE HUMANE ASSOCIATION
701 A Street, Wilmington, DE 19801
(302) 571-0111
info@delawarehumane.org
Our Sponsors