Nevada Humane Society Duck Race and Festival
Sunday, August 21, 2016

|

Wingfield Park

|

Reno, Nevada
Winners:
Grand Prizes:
5th place, The Great Reno Balloon Race Experience: Stephen Whitt 
4th place, Dine Around Reno/Carson City: Aland Humphries 
3rd place, Pampered Pet Package: Patricia White 
2nd place, Vegas Vacation: Doug Barr
1st place, 2016 Toyota Corolla: Devin Lussier
Raffle Prizes :
Wolf Pack Madness: Julia and Charlena Jensen  
Get Your Duck On: Damon Collins 
For the Love of Pets: Heather Henion 
Color Me Wine: Connie Orback 
A Doggie's Dream: Michael Wilcoxson
Thank you to all who participated! We are excited to let you all know how successful the event was as soon as we unwind and get all of our ducks in a row! Thank you for your patience!
Our 7th annual Duck Race & Festival brought 30,000 bright yellow, rubber ducks to race down the Truckee River to raise money and awareness for homeless pets. Duck adoptions and all proceeds benefit homeless pets. The grand prize for the fastest duck is a brand new, 2016 Toyota Corolla, generously donated by Dick Campagni's Carson City Toyota!
#GetYourDuckOn #AdoptaDuckSaveaLife
About NHS: Nevada Humane Society (NHS) is a charitable, non-profit organization founded in 1932. In 2007, NHS became a no-kill shelter and launched a bold effort to help Washoe County become a no-kill community. In 2014, NHS expanded lifesaving efforts to include Carson City. Today, more than 70,000 animals have been placed into loving homes since 2007 and NHS continues to grow, maintaining its status as one of the top communities in the country for saving homeless pets. Working in partnership with Washoe County Regional Animal Services and a network of rescue organizations, NHS has put Washoe County in the very top tier of communities nationwide for saving homeless pets.
NHS provides shelter and care to homeless pets, low-cost spay/neuter and vaccines, pet adoption and other services for the community. NHS is not affiliated with, nor do we receive funds from, any other agency, including Washoe County Regional Animal Services and the Humane Society of the US.
*City of Reno park regulations do not allow dogs at special events. The only pets allowed will be adoptable pets from NHS and service dogs.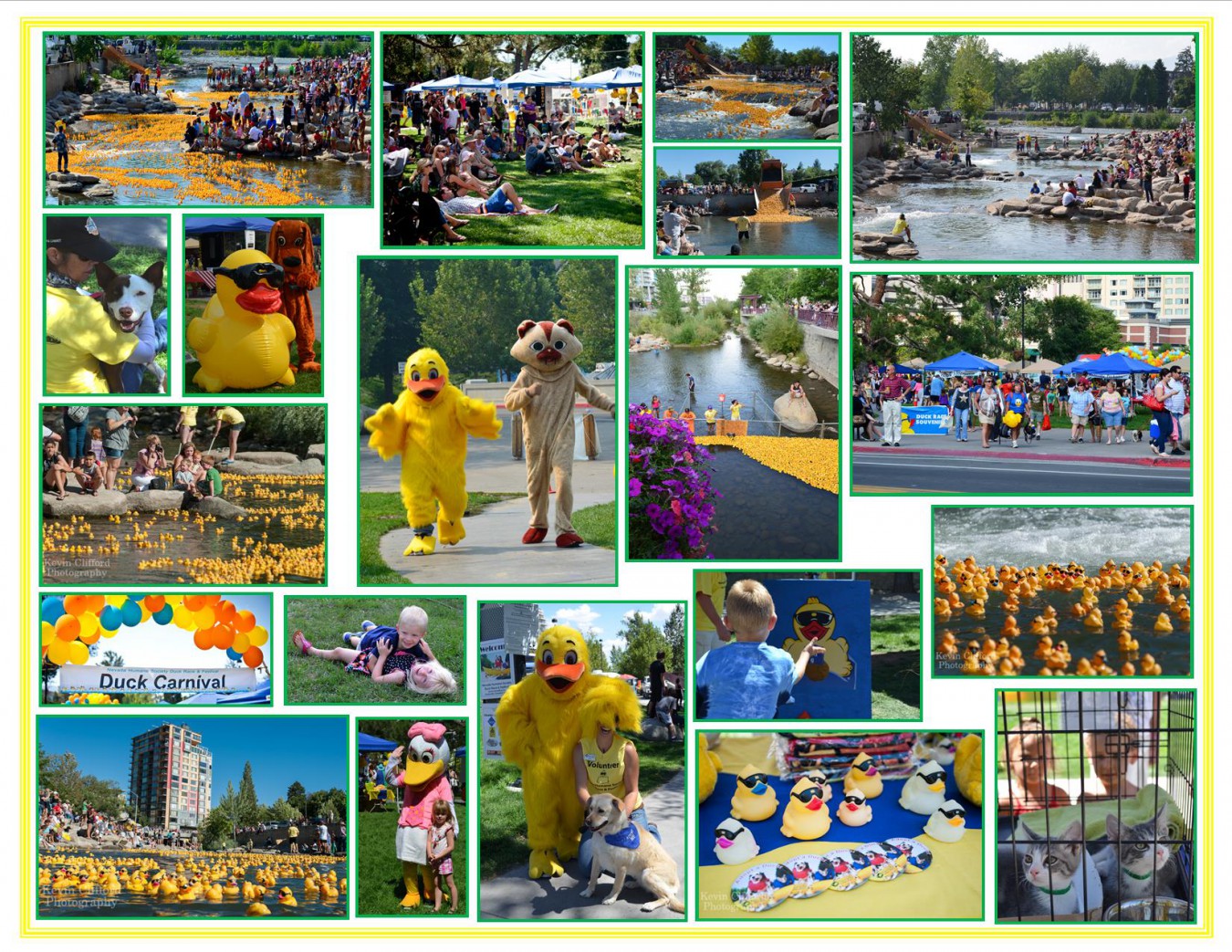 Looking to adopt a duck?
On August 20 we're adopting ducks at the farmers market at The Summit from 9am-2pm, then later that night at the Reno Aces game from 6:30-8:30pm. We're also at the BLC Street Fair that day, from 12pm-8pm.
Looking to get involved by adopting rubber ducks at your business, or in the community? We'll provide supplies and training if you provide the sales! Call us for more details at 775-856-2000 ext 331.
Plucky Partners
Thanks to our Plucky Partners for putting together duck adoption teams and helping to promote the Duck Race & Festival!
And yes, you can adopt ducks here too!
Festival Schedule of Events
*Reminder: The City of Reno prohibits glass containers, alcohol and pets in Wingfield Park during events. The only pets allowed at the Duck Race & Festival will be adoptable pets from Nevada Humane Society. Food trucks, including Mellow Fellow GastroPub, will provide food and beverages.
11am Welcome
11:30am Crush, live music and entertainment
1:15pm Aversion Therapy, live music and entertainment
3pm VooDooDogz, live music and entertainment
4pm Duck Race, followed by the grand prize presentations
5pm Close
Games and Activities
Bounce off the walls in Bouncing Around
Meet the mascots - Quacky, Daisy, Hope and Lucky from Nevada Humane Society
Play carnival games for a host of ducky prizes - fun for the whole family!
Shop for Duck Race merchandise, including beach towels, stainless steel water bottles, cuddly plush ducks and more!
Adopt a rubber duck for a chance to win great prizes! Adoptions until 3pm; ducks race at 4pm
Adorn your face with paint by Fantasy face Painting
Find a four-legged BFF from the Nevada Humane Society adoption booth
Relax and enjoy live entertainment on stage
Dress in ducky accessories and have your photo taken at the PicBox Photo Booth
Pick a shady spot on the river bank to cheer on the floating flotilla at the 4pm Duck Race
Shop the vendors for a variety of cool human and pet goodies
Refreshments and Drinks
Treat yourself to hot dogs, nachos, cotton candy and more from Goodi's Fresh Squeezed Lemonade
Enjoy an icy handcrafted microbrew from Mellow Fellow GastroPub
Get wrapped up in exciting edibles from All Wrapped Up
Cool off with shaved ice from Snowie Shaved Ice
Choose sweet or savory fair style goodies from Polka Dot Confections
Nosh on flavorful Mexican from Espinoza's
Indulge in cool temptations from Dolce Delites
Stay healthy with treats from The Fruit Smuggler
Our Sponsors