Con-QUACK-ulations to our 2019 Winners!
Grand Prize

($10,000, courtesy of PDM) - Karin Carlson
2nd Place

(Landscaping Makeover) - Steven Simmons
3rd Place

(Microsoft Prize Package) - Gerald Shepherd
4th Place

(Iowa Cubs Party Package) - Daniel Cunningham
5th Place

(Wellness & Relaxation Package) - Summer Arnold
6th Place

(Casey's Gift Card) - Michael Diehl
7th Place

(Hy-Vee Gift Card) - James Hauer
8th Place

(Carpe Diem Bracelet) - Christine Blohm
9th Place

(In the Bag Gift Card) - Fred Crawford
10th Place

(Nike Store Gift Card) - Sara Wille
* Winners will be contacted on Monday, May 6.
Join us Saturday, May 4, 2019 for the 12th Annual YESS Duck Derby
Presented by Academy Roofing & Sheet Metal Co.
The YESS Duck Derby is back to celebrate 12 years of spec-quack-ular fun, and we need YOU to "join the flock" and help kids in crisis! For as little as $5, your donation enters you to win fantastic prizes and helps children find safety and care at YESS - Iowa's largest emergency shelter for kids.
Once you adopt your ducks, come watch them race through the Jordan Creek Town Center lake on Saturday, May 4th. The fun starts at noon, when you can enjoy free family-friendly entertainment including live performances, activity booths, inflatables, games, and other outdoor activities for kids of all ages. At 2pm, cheer your rubber duck on to victory as it races across the lake with thousands of other lucky duckies. The first ten to cross the finish line will win fabulous prizes, including $10,000 cash. You don't have to be present to win, but you won't want to miss this quack-tastic event!

All proceeds benefit Youth Emergency Services & Shelter (YESS). YESS provides a safe haven and network of services designed to care for kids when they need it most. Under our roof, kids receive a warm bed, full tummy, and access to a variety of services that help them heal during a difficult time. In addition, we work with hundreds of families in the community to keep kids safe, healthy, and happy in their own homes. Learn more about how YESS connects kids with brighter futures by visiting www.YESSIowa.org

It's time to get quackin'! Adopt a duck. Help a child.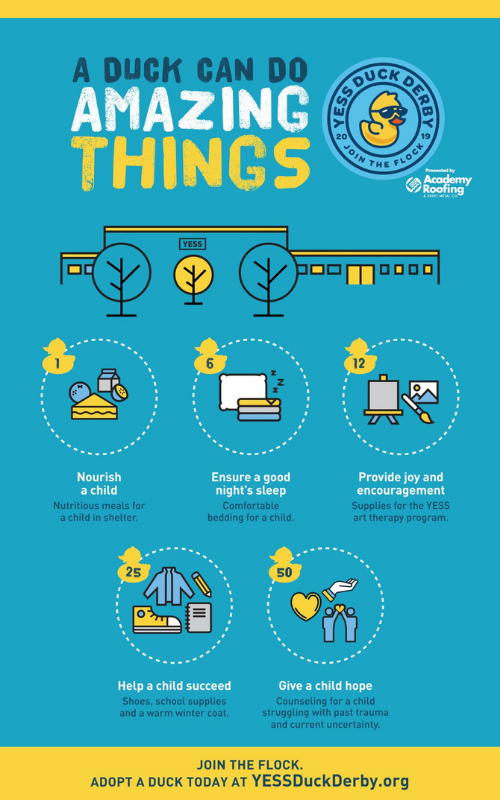 We need your help to make the event a SPLASHING success! Click the links below to learn more.
Our Sponsors