Nevada Humane Society Duck Race and Festival
Sunday, August 18, 2019

|

Wingfield Park

|

Reno, Nevada
Grand Prizes:
1st place, 2019 Toyota Yaris OR a $10,000 cash prize
Our Duck Race & Festival will bring 20,000 bright yellow, rubber ducks to race down the Truckee River to raise money and awareness for homeless pets. Duck adoptions and all proceeds benefit homeless pets. The grand prize for the fastest duck is a brand new, 2019 Toyota Yaris (or $10,000 cash prize), generously donated by Dick Campagni's Carson City Toyota!
#GetYourDuckOn #AdoptaDuckSaveaLife
About NHS: Nevada Humane Society (NHS) is a charitable, non-profit organization founded in 1932. In 2007, NHS became a no-kill shelter and launched a bold effort to help Washoe County become a no-kill community. In 2014, NHS expanded lifesaving efforts to include Carson City. Today, more than 70,000 animals have been placed into loving homes since 2007 and NHS continues to grow, maintaining its status as one of the top communities in the country for saving homeless pets. Working in partnership with Washoe County Regional Animal Services and a network of rescue organizations, NHS has put Washoe County in the very top tier of communities nationwide for saving homeless pets.
NHS provides shelter and care to homeless pets, low-cost spay/neuter and vaccines, pet adoption and other services for the community. NHS is not affiliated with, nor do we receive funds from, any other agency, including Washoe County Regional Animal Services and the Humane Society of the US.
*City of Reno park regulations do not allow dogs at special events. The only pets allowed will be adoptable pets from NHS and service dogs.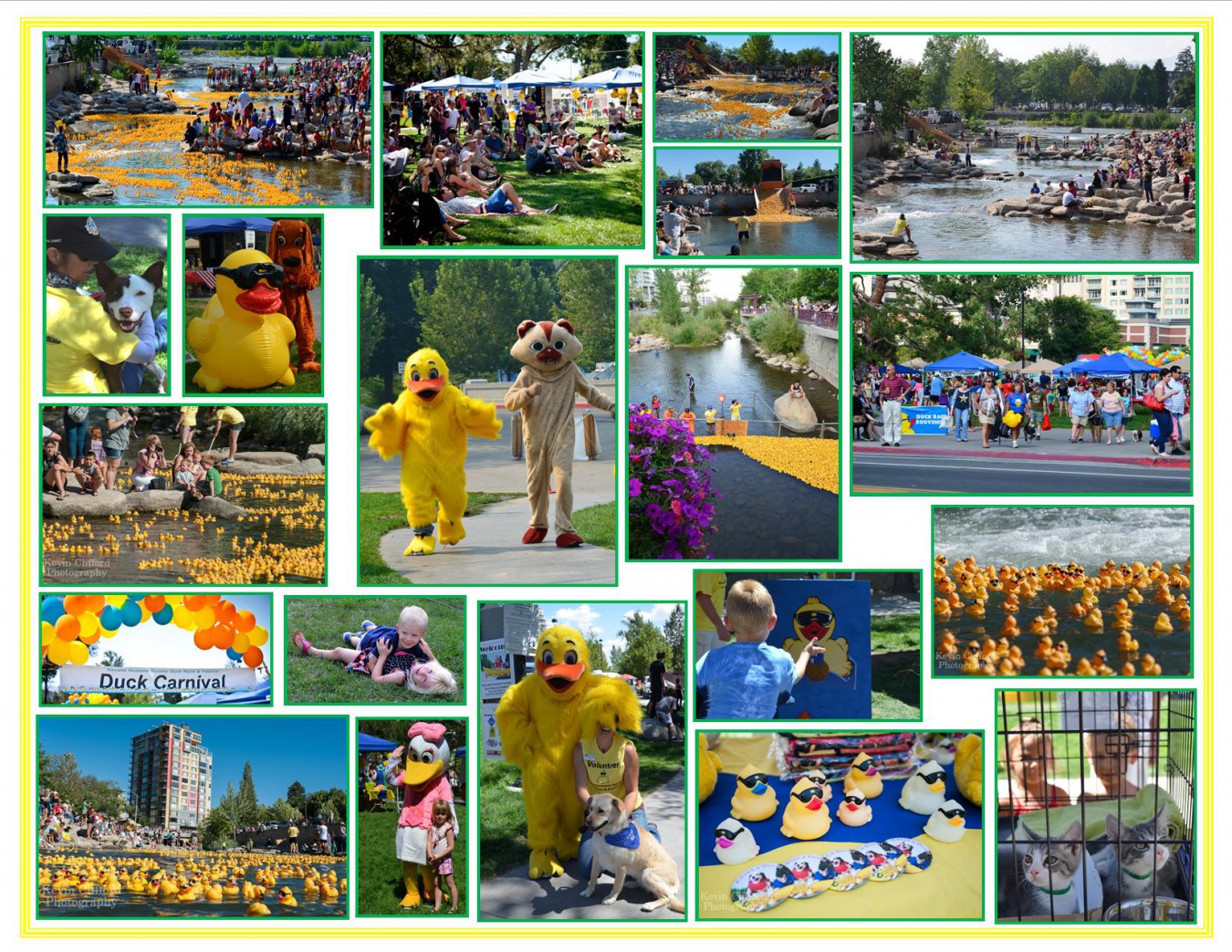 Looking to adopt a duck?
Come join us at Dick Campagni's Carson City Toyota on June 29th for a duck adoption day, stop by the shelter in Reno or Carson, or visit many local businesses who are selling ducks for the race!
Looking to get involved by adopting rubber ducks at your business, or in the community? We'll provide supplies and training if you provide the sales! Call us for more details at 775-856-2000 ext 335.
Plucky Partners
Thanks to our Plucky Partners for putting together duck adoption teams and helping to promote the Duck Race & Festival!
And yes, you can adopt ducks here too!
Carson Lanes Family Fun Center
If you're interested in being a Plucky Partner, please reach out to Michelle Perez at mperez@nevadahumanesociety.org
Adopt a duck. Win one of our amazing prizes (still in progress)
Grand Prize
A brand new 2019 Toyota Yaris OR $10,000 cash prize -- generously donated by Carson City Toyota
Prize Packages
Miguel's Mexican Restaurant
Wild River Grille
Whispering Vine Wine
PJ & Co. Restaurant Saloon
Beaujolais Bistro
Louie's Basque Corner
Bangkok Cuinsine
The Cheese Board
Eclipse Pizza
The Dish Cafe
Szechuan Garden
Roundabout Grill
Rapscallion
The Wet Hen Cafe
... and more to come!
More to come!
More to come!
Extreme Date Night Package
More to come!
Raffle Prizes
A Doggie Dream
A Better You
For the Love of Pets
Get Artsy with Wine
Get Your Duck On
Duck Hat
Beach Towel
Sunglasses
Inflatable Duck Float
Duck Tote
... and more!
Festival Schedule of Events
*Reminder: The City of Reno prohibits glass containers and alcohol in Wingfield Park during events. Food trucks will provide food and beverages.
11am Welcome! Enjoy music, food, and vendors!
4pm Duck Race, followed by the grand prize presentations
5pm Close
Games and Activities
Bounce off the walls in Bouncing Around
Meet the mascots - Quacky, Daisy, Hope and Lucky from Nevada Humane Society
Play carnival games for a host of ducky prizes - fun for the whole family!
Shop for Duck Race merchandise, including beach towels, duck hats, sunglasses and more!
Adopt a rubber duck for a chance to win great prizes! Adoptions until 3pm; ducks race at 4pm
Adorn your face with paint
Find a four-legged BFF from the Nevada Humane Society adoption booth
Relax and enjoy live entertainment on stage
Dress in ducky accessories and have your photo taken at the photobooth, sponsored by Chewy
Pick a shady spot on the river bank to cheer on the floating flotilla at the 4pm Duck Race
Shop the vendors for a variety of cool human and pet goodies
Refreshments and Drinks
Treat yourself to some yummy food and drink provided by many local food trucks!
Our Sponsors