EVENT MOVED TO TOPSAIL MOOSE LODGE
Join Us Thursday, August 2, 2018 at 5:30 p.m.
Due to all the rain and uncertain weather conditions this week we have had to change things up! Our event will now be indoors and our turtles will be plucked to determine the winners!
Please join us for an evening of Family Fun!
All kinds of family fun will start at 5:30 p.m. at TOPSAIL MOOSE LODGE, including food vendors, music and kid's activities. The turtles will be PLUCKED from the race course beginning at 6:30pm. The winners from each heat will then be PLUCKED to determine the top 3 winners!
All proceeds go to support Share The Table and help feed those in need in our community!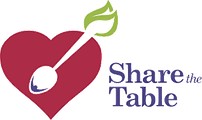 Our Sponsors