Join us

VIRTUALLY

@2:00 p.m. on

Facebook LIVE
Saturday, November 14, 2020
Community Assistance Center 13th Annual Duck Race!
Community
Assistance Center is so fortunate to have had such an amazing response of community support in selling out all 5,000 ducks this year, raising funds to help so many people who are struggling through financial hardships.
If you would like additional information about the assistance programs and services Community Assistance Center provides, please visit our website

www.cac-mctx.org
or you may contact Kathy Rifaat at kathy@cac-mctx.org
For Sponsorship Information, please contact Kathy Rifaat at kathy@cac-mctx.org
What is the Community Assistance Center Charity Duck Race?
An estimated 5,000 yellow rubber Race Ducks, sporting ultra-cool sunglasses, will appear on Saturday, November 14, 2020. The ducks will tumble, splash, bob, and slosh their way their way down the giant water slides into a pool and followed by a duck pluck to win GREAT prizes for their adopters.
How does my Duck Race entry (my charitable contribution) benefit the community?
Your support helps CAC provide immediate basic needs assistance with food, clothing, utilities, rent and mortgage payments as well as long term case management services. Additionally, CAC offers education and ID restoration programs, homeless care kits and more. All programs provided by CAC promote self-sufficiency and healthier lives for those we serve. In addition to the ongoing services we provide, Community Assistance Center plays a significant role in disaster recovery.
Who are this year's Supporting Sponsors of the Community Assistance Center Great American Duck Race?
We are so immensely grateful to our sponsors at Linde, Entergy Texas, Consolidated Communications, City of Conroe, Crowl Wealth Management, James & Janet Stilwell, Woody & Debbie McOmber, Mike and Julie Medved, The Michel Family, Erich and Jennifer Peterson and the Veterinary Medical Center of The Woodlands.

Like you, we believe in a bright future for families of Montgomery County. When you ADOPT A RACE DUCK our neighbors struggling through times of financial crisis receive the help they need to return to self-sufficiency.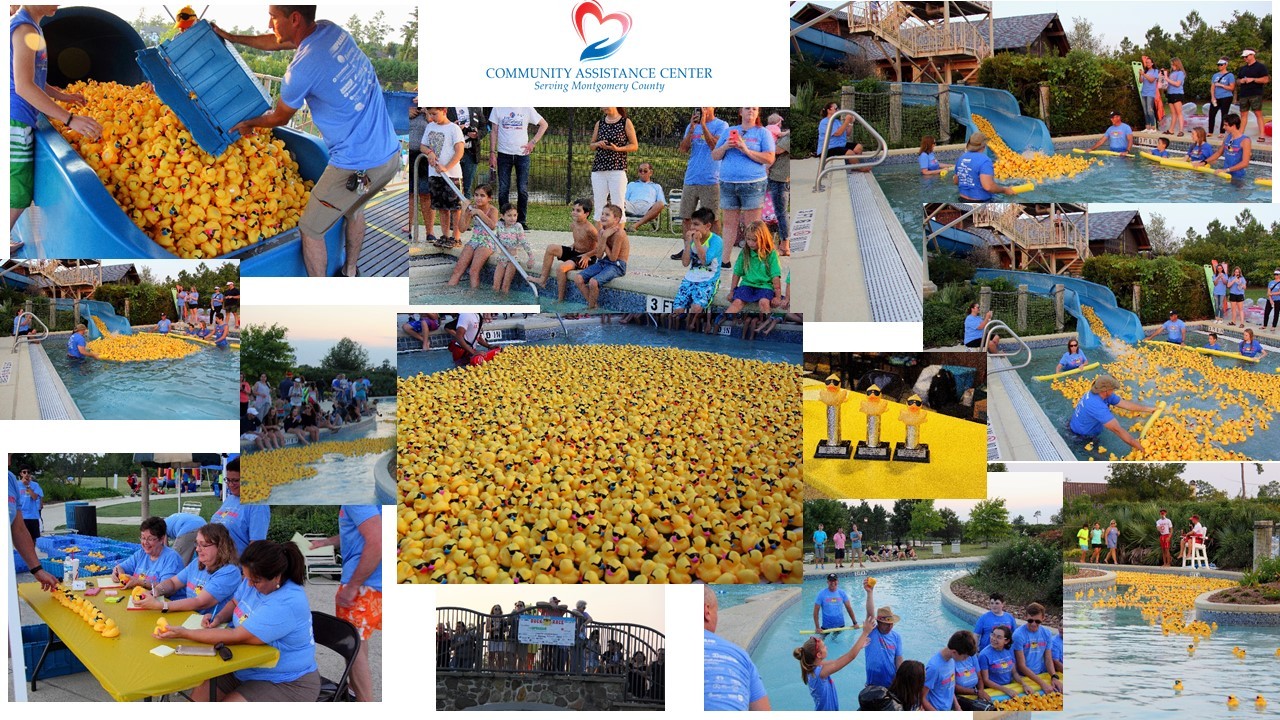 Our Sponsors
Silver Duck Sponsor
Lucky Duck Sponsor
Quacky Duck Sponsor
Friend of CAC Sponsor
PR Sponsor
Duck Awards Sponsor
Quacky Snack Sponsor
Video Production Sponsor