SATURDAY, NOVEMBER 7, 2020 12:00–4:00pm

GROVER'S BEND IN RIVERSIDE PARK
---
Join us at Pebble Beach in Riverside Park and on our live stream for the Inaugural Victoria Duck Safari, supporting several Victoria County charitable organizations.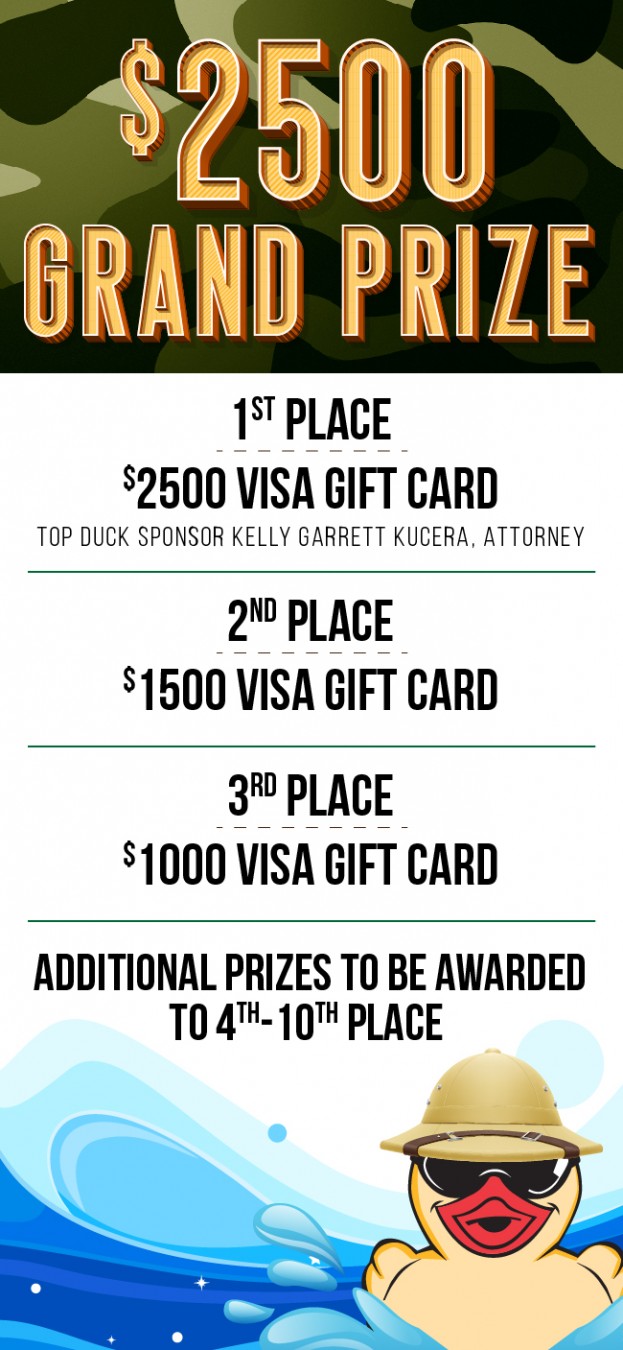 > WHAT IS THE VICTORIA DUCK SAFARI?
Thousands of adopted rubber ducks will dive into the Guadalupe River at Riverside Park and race toward the finish line. Prizes will be awarded for the first 10 ducks to reach the finish line. Anyone can adopt a duck for a chance to win. This family fun event will begin at 12:00p.m. The ducks will dive in at 2:00pm and paddle their way to an exciting finish at Pebble Beach. Don't want the festivities to end? Pitch a tent and join the City of Victoria for their camp out and movie night - more details can be found at Victoriatx.org/parks-recreation. Can't make it to the Duck Safari? Not a problem. If your lucky duck wins, we will notify you of your prize.
> WHY ADOPT A DUCK?
By adopting a duck, you have the opportunity to support the Victoria Symphony Orchestra and any of the other 26 participating Victoria County non-profit organizations. 2020 has been a challenging year for all of us across the coastal bend and this is a chance for our non-profit community to pull together this season. Let's make a splash and fight through this season with our Inaugural Victoria Duck Safari BUCK-A-DUCK non-profit program. Follow us on Facebook and Instagram to keep up with all of our quacky updates.
> PARTICIPATING NON-PROFITS
Victoria Symphony
Adopt-A-Pet
Billy T. Cattan Recovery Outreach
Boys & Girls Club
Children's Discovery Museum
Golden Crescent CASA
Golden Crescent Habitat for Humanity
Hope of South Texas
Hospice of South Texas
Junior League of Victoria
Meals on Wheels
Victoria Mid-Coast Family Services
Museum of the Coastal Bend
Nave Museum
Northside Rotary
Perpetual Help Home
Promise Pointe
Salvation Army of Victoria
The Texas Zoo
Victoria Art League
Victoria Bach Festival
Victoria Ballet Theatre
Victoria Business and Education Coalition
Victoria Crime Stoppers
VISD Education Foundation
Victoria Rotary Club
The Vine School
YMCA of The Golden Crescent
Our Sponsors
Top Duck Sponsor
Mighty Ducks
Lucky Ducks
Feathered Friends
Duck Deployment Team